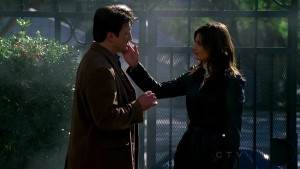 I would like to start this review by saying that I didn't have high hopes for this week's episode. Thank God I didn't because I would have been sorely disappointed otherwise. It wasn't all bad, but for the second week in a row, the murder they were investigating failed to catch my attention.
Now, last week's 'Nikki Heat'was a stellar episode and an excellent character study of Detective Kate Beckett. Last night's 'Poof! You're dead'didn't quite share the same brilliance. While they both had somewhat weak cases, the character development aspect was great. That said, this week's episode pales in comparison to other excellent ones.
I am not really sure what fell flat for me, but I just wasn't feeling it. The investigation had its somewhat interesting twists and turns, but the whole magic trick thing thrown in randomly really bugged me. Also, there was this huge hype about Gilles Marini guest starring and I was a little disappointed that it was pretty much all for nothing since he was only in two small scenes.
So now that we got the negative part out of the way, let's discuss what worked in this episode. First, Lanie and Esposito. We all knew it was coming and I really liked the way they handled it. It was funny that they were trying so hard to keep it a secret when everyone already knew that they are together. Their sneaking around felt like a rehearsal for what we will get to see when Castle and Beckett finally get together and — most importantly — it didn't feel forced. Score one for Castle.
Then on the other side of the relationship scale were Castle and his ex-wife/girlfriend/publisher Gina. They have been fighting a lot and Castle came clean with his mother and said that the relationship was just ordinary and he doesn't want that. He wants more. They're not in love anymore and neither wants to admit it. Throughout the episode, everyone kept bothering him about it (since it was published on the paper that they had been fighting) and we could see that it was really taking a toll on him. Except that Beckett didn't push at all to talk about it, which Castle was really grateful for.
When Castle finally breaks up with Gina by the end of the episode, we can tell that he has finally realized who really wants. Except he doesn't know that Beckett heard him breaking things off with Gina and that now she has a lot to think about. Both Nathan Fillion and Stana Katic played this scene beautifully with those subtle changes in their expressions. That was by far the very best part of the episode.
Now that we know that Castle is a single man and that Beckett knows about it, it puts the whole 'Nikki Heat'episode in a new light. Originally, 'Poof, you're dead'was supposed to air before 'Nikki Heat'. So last week, a lot of people were speculating about Beckett's reaction when Natalie Rhodes tells her that Castle said no when she invited him back to her place and why he did that. Most people thought that it was because he was still with Gina and didn't want to cheat, but now that we know he was not with her anymore, it definitely gives us something to think about.
Overall, it was a decent episode, but it wasn't great. It deserves a B- for me.
To be honest, I was more excited about the promo for the next episode — which will deal with Beckett's mother's murder again — because we will finally get to see that epic scene we have all been speculating about for weeks. Too bad it's only going to air on January 24th.
This will be the longest two-week hiatus ever.
Tell us what's wrong with this post? How could we improve it? :)
Let us improve this post!