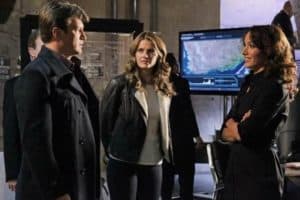 I admit I started watching this episode with my foot out the door. Although the promos and sneak peeks had made it all seem so very exciting, I was still burned from last season's two-parter, in which half of the fandom felt completely cheated by the Josh fiasco, myself included. So I tried to approach this episode with the same mentality as I did last week with 'The Blue Butterfly'and tried as hard as I could to keep my expectations to a minimum. After all, I think we have all learned the hard way that it is better to pleasantly surprised than sorely disappointed, especially when it comes to Castle, right?
Well, I was worried for nothing. Maybe it was the fact that I went in with no expectations at all, but 'Pandora'was good, guys. It was really, really good. I will even dare to say that my favorite show — the Castle I fell in love with all the way back in season 1 — is finally back and on the right track. Last night's episode had everything I love about it: character development (Kate Beckett talking about her feelings to Castle, guys. Brace yourselves for the apocalypse!), suspense, action and humor.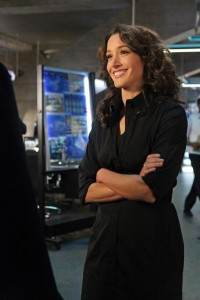 I thought I was going to be completely annoyed by Jennifer Beals'character – because, really, another woman to make Beckett jealous is starting to get old — but I actually liked her. Unlike Kristin Lehman's Serena Kay in 'Eye of the Beholder', Sophia Turner was really just doing her job. Sure, she has a history with Castle, but she wasn't coming on to him in any way and it was actually amusing to see Beckett's jealousy this time. Because, for once, she didn't keep it all bottled up. She actually externalize those feelings and, no matter what history (romantic or not) Castle has with Sophia, I think he made it very clear to her that it was nothing like what he and Kate have now. Of course she is stubborn and took her a while to get it, but I honestly thought that by the end of the episode (when he returns to the precinct with the lead about the Mathematics professor), she was finally convinced that Sophia Turner is in his past and that is all there is to it.
Now, all shipper discussion aside, can we please talk about the amazing development that was Alexis interning with Lanie in the medical examiner office? Finally, finally, they gave her something interesting to do that is not her whining about her boyfriend or about not getting into the university she wanted. I have actively disliked Alexis for the better part of this season, but she won me back in a heartbeat in 'Pandora'. Did you guys see how grown up she is now? And not only that, her internship also gave Lanie something else to do as well and I absolutely loved to see them interacting. I believe that was a first in the show, right? Lanie and Alexis in a scene by themselves? I absolutely loved it and I really, really hope this is not just a one episode thing. It also served to establish Lanie and Kate are indeed still friends and talk outside of work since the news about her fight with Castle made its way to Martha through Lanie and Alexis.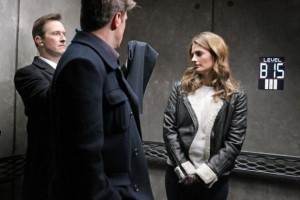 I confess I was not crazy about the case; it seems that every two-parter the stakes are higher. First it was a serial killer obsessed with Nikki Heat, then it was a nuclear threat to New York, and now it's a catastrophic even that could destroy the United States. What are they going to face next season, the apocalypse? But it felt very reminiscent of season 2's two-parter with Dana Delaney's Special FBI Agent Jordan Shaw (who I would really, really love to see back on the show) with lots of twists and turns and managed to keep me at the edge of my seat the entire episode — and curse that cliffhanger from hell when their car dove into the water. Even though we all know they are going to be perfectly fine, I am excited about next week's conclusion of the two-parter, called Linchpin.
'Pandora'was Castle in its finest form and it just might be my favorite episode this season, second only to 'Cops & Robbers'. But what I really enjoyed about last night's episode was that it got me excited about my favorite show again. Finally.
Welcome back, Castle. I've missed you so much.