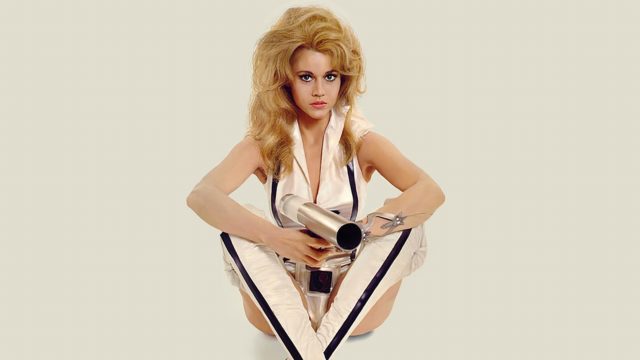 "Barbarella", the 1968 film based on a French comic is campy and filled with corny special effects and provocative, silly humor. The film was directed by Roger Vadim and starred his wife Jane Fonda as the sexy space heroine in the 41st century sent by the U.S. government to find a scientist intent on destroying the universe. The plot of the film is thin to say the least and the special effects are laughable today. Yet "Barbarella" remains a cult favorite. There have been talks for decades of remaking "Barbarella" which would be interesting. Several people have been attached to the project and a remake is possible. It looks like a "Barbarella" remake could happen soon.
Here are some casting ideas for the perfect "Barbarella" reboot.
Plot
A reboot of "Barbarella" would need to alter the plot a bit to fit into the 21st century world. When you think about it, Barbarella is a female counterpart to James Bond and Bond films remain as popular as ever. The 1968 film will always be known for its cheesy special effects more than anything else. In a 21st century reboot the special effects would probably be better but that doesn't mean they can't retain the quaint 1968 take on science fiction. The plot may need to be altered somewhat to make the show fit into today's look at the role of women and sex yet retain what "Barbarella" was really all about: peace, love and goodness. The Barbarella of today would be able to portray a naivety while still maintaining a strong presence in the universe. After all, Barbarella is a woman sent to save the universe from a mad scientist. Today's Barbarella might not be so naïve but would advocate for peace, love and goodness. She'd also be able to laugh at the humor just as Jane Fonda did.
Director
Roger Vadim was a big fan of the French comic strip and based the 1968 "Barbarella" directly on that. Robert Rodriguez who directed "Sin City" has expressed interest in remaking "Barbarella", and in 2007, it looked like Rodriguez was going to make it happen, but it didn't. Australian director Robert Luketic is on the short list to direct a remake. He has directed films including "Legally Blonde" "Monster In Law" and "21". Most recently, he directs the television hit based on a telenova "Jane the Virgin".
Barbarella
Rose McGowen was on board at one point to star in a reboot of "Barbarella". Natalie Portman has also been considered. The top choice to play Barbarella is Anne Hathaway. Hathaway is a talented actress who has proven her dramatic and comedic skills. With such a variety of roles under her belt, its conceivable that Hathaway wouldn't be opposed to playing a reboot of the campy cult classic "Barbarella". In fact, Hathaway might be the perfect choice. She's beautiful and talented. She is charming and funny. Anne Hathaway would make a great new Barbarella, a space heroine who would provide a strong feminist side to the 1960's iconic character and keep the naivety and innate goodness that is Barbarella. Jane Fonda, herself, has expressed an interest in starring in a "Barbarella" reboot.