The Boondocks is an iconic animated TV series that follows the African-American family, The Freemans. This family follows grandfather Robert Freeman, as he raises his young grandsons, Riley and Huey Freeman. While their family gets into different entertaining situations together, this show is a wholesome story about family.
The show's main star is Huey Freeman, who is more of a child genius than his streetsmart and more practical younger brother, Riley. With episodes surrounding politics, gender, and social vices, Boondocks has cemented its place in pop culture history because of its relevance years after its final season aired. With a stellar voice cast and detailed storylines, Boondocks has become a cult classic now. Here is what its cast of Boondocks has been up to.
Regina King as Huey and Riley Freeman
Actress and director Regina King is one of the most beloved stars in Hollywood. She started acting in the 90s and appeared in several films like Friday, Ray, Miss Congeniality 2, The Harder They Fall, Watchmen, and Seven Seconds. Initially, she was cast to voice Riley in The Boondocks , but she ended up impressing the director with Huey's voice and got both roles. King made her directorial debut with One Night in Miami. Fans are still in disbelief that she voices both characters so well considering their differences. Huey is a radical and revolutionary young kid who's mastered martial arts and is more sober than his housemates. He always has to bail out his brother and grandad from their mistakes but still loves them no matter how much they get on his nerves. He is also fluent in Chinese but can sometimes be too pessimistic, which is balanced off well by his brother Riley.
Riley Freeman is the complete opposite of Huey. He loves music, doing bad things, and not snitching, even if it's the right thing to do. While you can be mistaken to think that he isn't as bright during most episodes, he has repeatedly proven that he can plan and go toe-to-toe with Huey. Riley always wants to be seen as the tough guy, but he is a softie at heart.
John Witherspoon as Robert Jedediah Freeman aka Grandad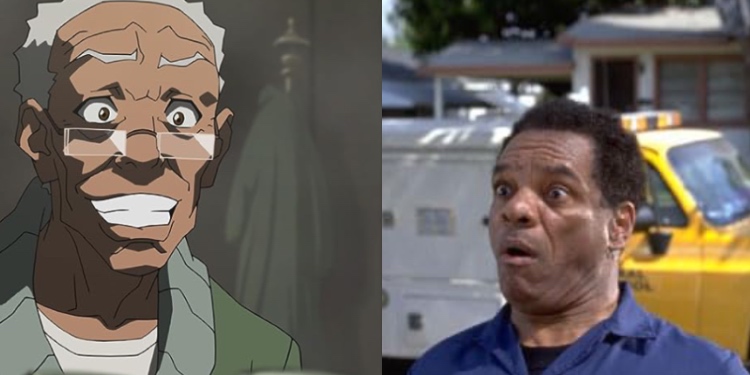 John Witherspoon was an American actor and comedian known for films and TV shows like Friday, The Five Heartbeats, Boomerang, The First Family, and Vampire in Brooklyn. Sadly, Witherspoon died at age 77 from a heart attack in 2019. He will always be remembered for his iconic role as Robert Freeman in The Boondocks. Robert Freeman is Huey and Riley's legal guardian. He is a retired older man living in the suburbs of Woodcrest next to washed-out rappers and lawyers like Tom Dubois. While Robert serves as the main voice of reason in the family, his recollection of certain events seems wildly exaggerated. Nonetheless, he is always looking out for his family's best interests.
Gary Anthony Williams as Uncle Ruckus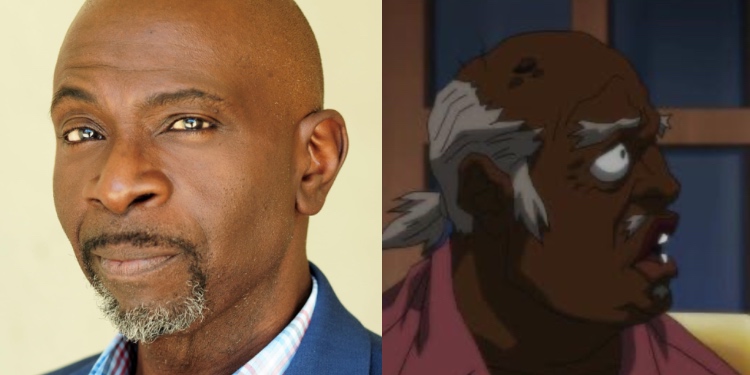 Filmmaker, actor, and comedian Gary Anthony Williams is most known for voicing the character of Uncle Ruckus, but he's accomplished a lot more in his acting career than fans realize. Williams has worked on Marvel's Moon Girls and Devil Dinosaur, Oddballs, The Neighborhood, Harley Quinn, Hailey's On It, Harold & Kumail Get the Munchies, Batman: The Dark Knight Returns Part 1, and Teenage Mutant Ninja Turtles: Out of The Shadows.
The unflattering Uncle Ruckus is one of the more famous characters from the show. He is overweight, idolizes slavery, and hates the black culture. He even believes he was adopted from a white family and underwent reverse vitiligo, making his skin turn black. While Ruckus never misses a chance to say how much he hates everything related to African-American culture, he does care about the Freeman family. Ruckus is always there to offer his unsolicited help.
Cedric Yarbrough as Tom DuBois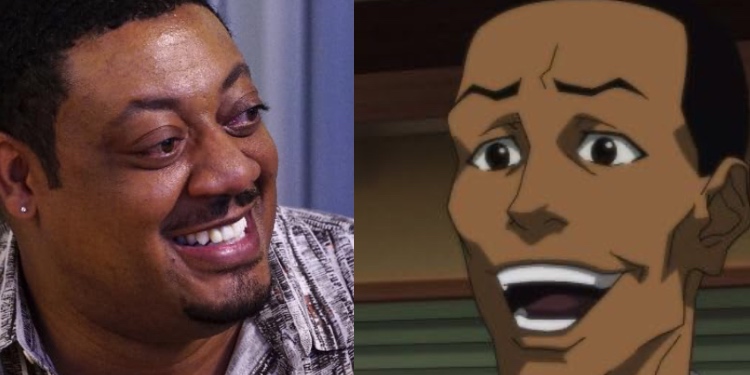 American actor and comedian Cedric Yarbrough has showcased his immense talent on screen for years. Yarbrough started his acting career in the comedy series Reno 911 and went on to appear in projects like Black Dynamite, The 40-Year-Old Virgin, and The Boss. Yarbrough's most recent performances are in Strange Planet, Captain Fall, Lucky Hank, The Goldberg, Family Guy, and Fired on Mars. He voiced numerous roles in Boondocks, including Spectator, Bushido Brown, Stinkmeaner, Manny Perry, and Announcer. But his most iconic voice role is that of Tom Dubois.
Thomas Lancaster DuBois is one of Freeman's neighbors. He is married with one daughter, and most of the series serves as the stereotypical successful black man who is respected by society. DuBois is often faced with the reality that he abandoned his black culture by marrying a white woman and prosecuting many black men. Still, he tries his best to be a good person by advocating for better gun control and the rights of the LGBTQ. His most famous episode was when his wife gets seduced by singer Usher. Yarbrough recently revealed that the episode was inspired by events when he and his ex-wife met Usher on a date.
Jill Talley as Sarah Dubois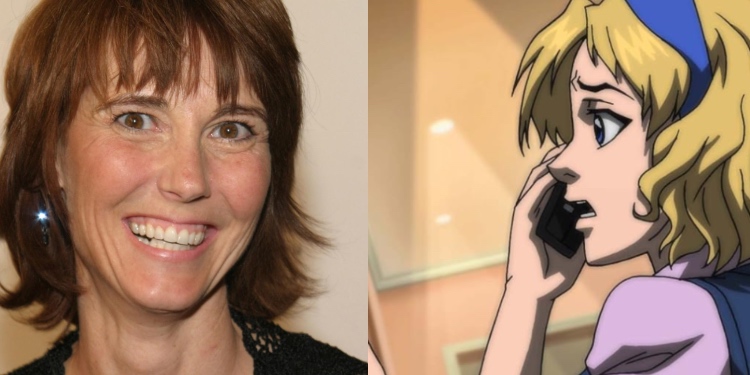 Jill Talley is an American actress and comedian who worked on many animated shows and has been cast in The Boondocks, The Patrick Star Show, and SpongeBob SquarePants, where she voices Karen Plankton. She is married to Tom Kenny, and they have two children. Talley is also featured in the 2023 series Adventures in Wonder Park and Saving Bikini Bottom: The Sandy Cheeks Movie that's still in production. In The Boondocks, Talley plays Sarah Dubois. Sarah Dubois is Tom's white wife and has a daughter, Jazmine Dubois. For most of the episodes, she is loving towards her husband and enjoys their marriage and the life they've managed to build together.