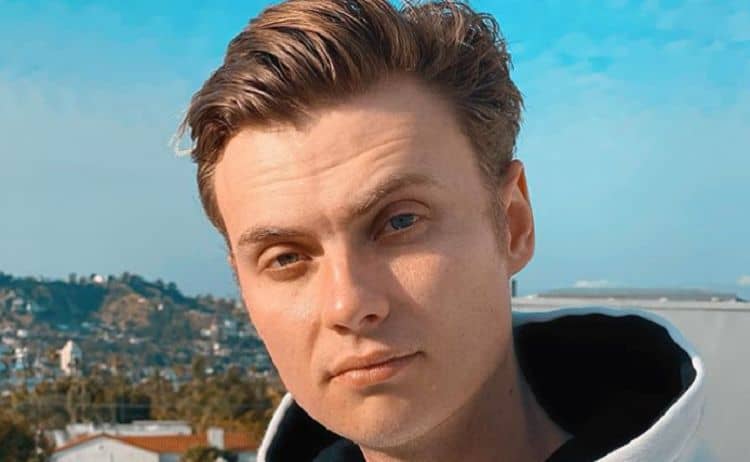 Being a YouTube star was never in the plans for Carter Sharer, but that's exactly what happened. In just a few short years, he has managed to gain more than 6.5 million subscribers on the platform. He is well-known for his lighthearted content that includes challenge videos and pranks. Carter's rise to YouTube fame is proof that good content will always keep people coming back for more. Although watching his YouTube videos can give you a good sense of who he is, there's a lot ore to Carter behind the scenes. Keep reading for 10 things you didn't know about Carter Sharer.
1. He Was A Swimmer
Carter is a talented swimmer and swam competitively for much of his life. He attended Carnegie Mellon University in Pittsburgh where he was a member of the swim team. He competed in the 100 yard butterfly, the 200 yard butterfly, and the 100 yard freestyle.
2. He Was A Physics Major
During in high school, Carter developed a a strong interest in physics. He entered college as a physics major but quickly realized it wasn't the right choice for him. After considering a couple of other options, he ended up "creating" his own major.
3. He Didn't Join YouTube With The Intent To Make Videos
When Carter joined YouTube, he didn't do it with the intention of creating content. Carter says that when he first made his channel, he simply did it with the intention of watching other people's videos. Eventually, he began making videos with his brother and the rest is history.
4. He Quit His Job To Focus On YouTube
Carter didn't originally have intentions of turning YouTube into a career. However, once his channel started gaining some traction, he realized that it could be a very lucrative opportunity. He quit his job, moved back home, and started devoting all of his time to YouTube.
5. He Wanted To Be A Coder
Carter has a background in computers and always wanted to be a coder. Although he is doing something totally different, he's still able to use his coding knowledge. In an interview, he said, " I have a coding background. I understand how computers work and how programs work and how algorithms work. And so I'm using that knowledge to then study YouTube, look at research papers, look at articles, looking all this stuff to understand how I can use my knowledge to reverse engineer this to almost manipulate my way to getting views…"
6. He's All About His Business
The content on Carter's channel may be fun and easy going, but don't be fooled. He's very serious about YouTube and manages his channel like a business. He told In The Know, "I think my viewers would be very interested to know that off-camera, I'm actually very detail-oriented and have a business mindset. I actually probably spend more time running the business behind this YouTube than I am in front of the camera producing content."
7. He Wishes He Started Sooner
Growing a large following on YouTube can take some people years. However, things took off much more quickly for Carter. If he could do anything differently, he says he would've started his channel in high school to give himself more time. If that were the case, he would probably have double the followers by now.
8. He Appreciates Feedback From His Fans
Lots of people with large social media followings have admitted that they never read the comments. However, Carter isn't one of those people. He actually finds that reading the comments can help him think of new content ideas because the comment section is the perfect place to find out what viewers like/don't like.
9. He's Been Injured Making A Video
Carter has done some pretty crazy videos of the years, and sometimes things don't always go as planned. When he first started YouTube, he recorded a video where he attempted to make a potato cannon. The cannon hadn't been constructed correctly, and backfired into Carter's arm when he tried to launch it. Luckily, he didn't have any serious injuries.
10. He's Never Rigged A Challenge Video
Challenge videos are very popular on YouTube, and Carter has done plenty of them. If you've ever wondered whether or not he's rigged any challenge videos in order to increase his chance of winning, you'll be happy to know that the answer is no. However, he did admit that he's helped other YouTubers slightly rig their challenge videos.