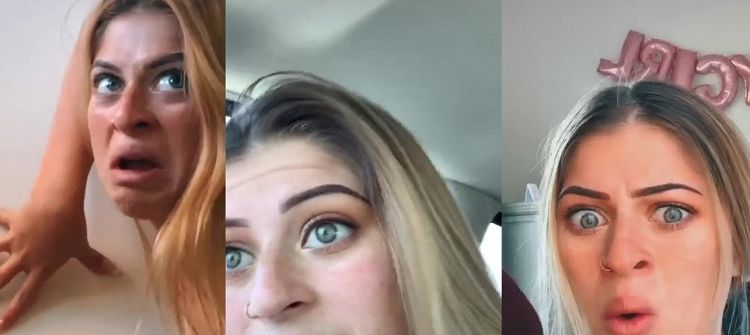 Quarantine has given people a lot more time to browse through their social media teams. As a result, the social media platform, TikTok, has blown up. Although it was already on the rise, it has recently become the starting place for dozens of challenges and viral videos. Alicia Allen is one of the latest people to find success on the platform. The young TikToker has already gained 3 million followers and more than 95 million views. She is best-known for her humorous and random videos. Keep reading for 10 things you didn't know about Alicia Allen.
1. She Loves The Beach
Even though Alicia spends a lot of time creating content for Tik Tok, she also likes to take breaks to relax and enjoy her 'regular' life. One of her favorite things to do seems to be hanging out on the beach and enjoying a beautiful day.
2. She Started A TikTok To Face Her Insecurities
When Alicia first decided to join TikTok, it wasn't because she was hoping to become popular on the platform. Instead, it was a way for her to overcome some of insecurities she developed on other social media platforms. One of the things that drew her to TikTok was the fact that she wasn't able to drastically edit her appearance.
3. She Has Gotten Caught Up In Controversy
For the most part, Alicia's TikTok content is funny and lighthearted. However, she found herself in the center of controversy after recording an offense video in which she made fun of people with autism. Although she deleted the video several months ago, as we all know, nothing on the Internet truly ever goes away. She recently posted an apology video to acknowledge that she made a mistake.
4. She Had An Unhealthy Relationship With Instagram
There was a point in time where Alicia spent a lot of time on Instagram. However, she ultimately developed a bad relationship with the platform. She shared, "I used to think having Instagram followers was everything, and it wasn't until I had caught myself editing my photos so MUCH that I realized how unhealthy it was for me, so I deleted it." She added, "I remained off of Instagram for a total of seven months and re-joined TikTok to pass time".
5. She Lives In California
California is the ideal place to be for people looking to have careers in entertainment, and social media celebrities are no exception. Alicia currently lives in the San Diego industry although it's unclear whether or not she was born and raised there.
6. She's Signed To A Management Team
Actors and singers aren't the only people who need professional management these days. Internet stars have also started signing with agencies in order to help advance their careers. Alicia Allen is currently signed to a Hollywood based agency called Influences.
7. She Wants Her Followers To See Her As Human
Once you achieve a certain level of success, it's easy for people to stop seeing you as a regular person. Lots of people put celebrities on pedestals and look at them completely differently. However, Alicia wants her fans to know that despite her massive number of followers, she's still just a person who is susceptible to making mistakes like anyone else.
8. She Loves Making People Laugh
There's nothing worse than getting online and being inundated with nonstop negativity. When most people scroll through social media, they're hoping to see something that gives off positive vibes. That's exactly what Alicia Allen hopes to do with her content. She loves creating things that her followers can relate to, but she also hopes that it keeps them laughing.
9. She Also Has A Large Instagram Following
Even though she took a break from Instagram, she is back on the platform and has earned a pretty good following. Although her TikTok following is much larger, her Instagram numbers are certainly nothing to sneeze at. She has nearly 54,000 followers on Instagram and that number increases on a regular basis.
10. She Keeps Her Personal Life Private
Alicia has become a well-known figure on social media. While the spotlight has been great, she likes to keep the focus on her social media persona and not on what she haas going on in her personal life. Although she does share details from her real life on occasion, she doesn't seem to be interested in putting her private life on display.
Tell us what's wrong with this post? How could we improve it? :)
Let us improve this post!