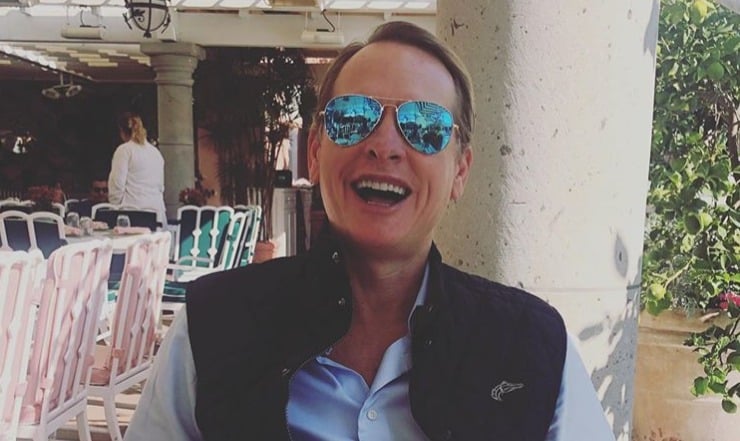 When we think about fashion, a few names like Calvin Klein and Ralph Lauren come up. On the other hand, if asked to name any actor, names like Will Smith and Meryl Streep pop in our minds. However, finding a person who bridges the gap between the two industries and brings out the best in them can be a challenge. Still Carson Lee Kressley has managed to do so by not just being an Emmy-Award television personality, but also a fashion designer and an actor. He has been featured in many shows, including "Queer Eye" and "Fab Five." He has also worked in the past as a motivational host for the series "How to Look Good Naked." Here is everything there is to know about Carson Kressley.
1. His Background
Carson was born on November 11, 1969, in Allentown, Pennsylvania. He refers to his home as a hidden gem where he goes back to spend time with his friends and family. He grew up in a family that raised horses in his grandparents' farm. According to Lehigh Valley Style, Carson says that he thought it was reasonable to grow hundreds of ponies in his backyard. He owned his first pony, Sparky, at the age of five. From a very early age, he competed in equestrian events where he won the world championship in 1999. His favorite sports include the Bake Oven Inn in Germansville and Wanamakers General Store in Kempton.
2. His Education Background
Carson Kressley studied and graduated from Northwestern Lehigh High School. He went on to graduate with his bachelor's degree in Fine Arts and Finance from Gettysburg College. It was here where he became a member of the Alpha Phi Omega fraternity and got a nomination to Phi Beta Kappa.
3. His career as a designer
Before he worked for Ralph Lauren, he worked as an independent stylist. While working for Ralph, he worked in areas such as corporate advertising. He is a fashion critique in shows and high profile events such as the Golden Globes and Oscars. He was also a judge in the Miss Universe pageant in 2005, which was crowned The Mother of All Pageants in 2007. In 2006 he started his clothing line for women and men called "Perfect" after inspiration from Ralph Lauren and his show "Queer Eye." His collection, "Love, Carson," was started in 2012. He debuted the collection for Shop NBC, and it was meant to provide women with affordable glamour.
4. His career as an actor
"Queer Eye for the Straight Guy," a show that was an instant hit worldwide among the fans, having premiered in 2003, making Kressley and his co-stars and celebrities back in the day. After his success in Queer Eye, "The Perfect Man" was his movie debut and later starred in shows such as "The Year without Santa Claus." He made a personalized video shout out in an independent comedy known as "16 to Life." In 2004, Carson's performance in "Queer Eye" led to the series winning an Emmy Award for Outstanding Reality Program. The series was again nominated in the same category in 2005 and was also recognized several times by GLAAD (Gay & Lesbian Alliance Against Defamation). He joined Team Oprah In 2011, following the launch of his show "Carson Nation."
5. He is an Author
Carson's contribution to the field of writing cannot be underestimated. He has written books which include, "Off The Cuff: The Guy's Guide to Looking Good," "You're Different, and That's Super," "A Cheeky Guide to Feeling Sexier in Your Skin" and "Does This Book Make My Butt Look Big?" among many more. These magnificent works of art display his great ability as a topnotch author. Three of his books have been recognized as New York's best sellers.
6. His current projects
Carson's current project is an interior design show that is to air on Bravo TV called "Get a Room with Carson & Thom. According to Bravo TV, he is coordinating this project with Thom Filicia. Carson appears on numerous shows as a fashion critic in shows such as "Good Morning America," "Live with Kelly and Ryan," and "Wendy Williams." He is also set to appear in the premiere of the ninth season of the famous "RuPaul's Drag Race."
7. Coming out
In spite of being very successful, he is a very modest and humble person. He has openly accepted as being gay and reveals that his parents were the last to know about his sexuality. According to Married Divorce, even though his parents were the last to know, they have supported him fully. He once dated NFL player Esera Tuaolo for a while before they parted ways but are still friends. The latest reports indicate he has a boyfriend whose identity Carson prefers to remain a secret.
8. His zodiac
As a Scorpio born on November 11, compassion dominates his personality as well as artistic interest. Since he knows that other people love being the center of attention, he prefers being away from others to his comfort zone. Such qualities make him challenging to understand, which proves why other people want to know him more. Even though he is caring and compassionate, he is timid when it comes to relationship matters, but his artistic qualities make him unique.
9. His net worth
According to Celebrity Net Worth, after opening various clothing brands and appearing in multiple shows, Carson has garnered a net worth of $8 million. About five years ago, he bought a home in the Lehigh Valley close to where he grew up.
10. Work as a philanthropist
Carson uses his celebrity status to support various causes, which include The Human Rights Campaign, The Trevor Project, the Al D, Rodriguez Liver Foundation, and The Trevor Project. Kressley is a trustee on the board of The American Saddle Bred Museum, The True Colors Fund and Philadelphia University.