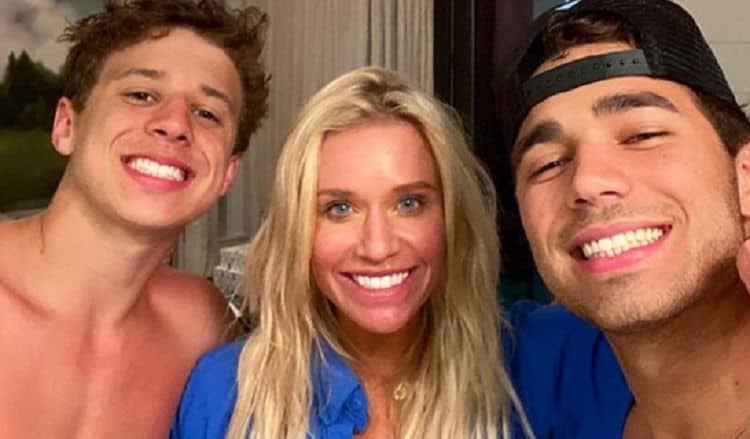 Caroline Boyer is the beautiful wife of hunky country singer, Luke Bryan. She was born in Georgia where she was raised by her father, a social specialist, and her mother worked as an operator for an insurance agency. Caroline and Luke have been couple since 2006, but before their marriage, their relationship was a bit questionable with several break-ups and long spans of time between reconnecting throughout their relationship. Caroline Boyer may not be living the life of a famous actor or singer, but she is certainly living the good life in every other aspect, as the loving and caring wife of a famous singer. If you have ever seen this beautiful blonde on the arm of the handsome Luke Bryan, then you are familiar with who she is. But here are ten things you didn't know about Caroline Boyer.
1. She was encouraged to get into acting and music
Boyer says that when she was younger, she was told by different teachers that she had a good stage presentation and should think about pursuing a career in music and acting, however, Boyer ultimately decided to take another path. She wound up choosing a different degree, gaining her first from The University of Georgia Southern University in Statesboro, Georgia, then going on to get her masters from a well-recognized school.
2. They met at a bar
It didn't start out like some deeply romantic story you sometimes hear about. It was actually a more typical type of meeting when these two met in their college years. Bryan was a senior at the college in Georgia, and Boyer a Freshman when the two first met in a local bar. Bryan says that he was in love from the get-go and vowed to go over to her before he left the bar. They dated for a while after the meeting, but wound up breaking up for five years before they finally reconnected.
3. She made the first move
While most men are eager to make their move on a lady when they meet and have feelings for them, Boyer says that her, now husband, was actually the opposite of eager. Boyer describes her famous country singer husband as a real gentleman when they first met because he was on the slow side for making a move to get a kiss from her. He believed in not ever making a woman uncomfortable, so he never made the move on the beautiful blonde. Boyer admits that it was her who made the first move, kissing Bryan before he ever tried to steal one from her.
4. She trashed a wedding dress
Boyer was in a photo shoot with some of her friends titled, "trash the dress." The photos show Boyer and a few of her friends destroying a wedding dress with barbecue sauce, and it was all in fun. Many people might mistake the dress as being her own wedding dress that she was trashing, but rest assured it was not. The pictures show Boyer in the white wedding gown and a pair of cowboy boots, along with her friends who are spraying bottles of liquor and wine all over the white wedding dress that also sports the big red barbecue sauce stain on the front.
5. She's helping to raise her nephew
Bryan has dealt with very traumatic personal losses, including the loss of a brother, sister, and sister-in-law. When he tragically lost his brother and sister-in-law, his young nephew Tilden was left without parents, so the couple did what anyone would want to do, they took him in and are now raising him as one of their own along with their own two sons, Tatum and Thomas.
6. She has his first initial tattooed on her finger
The couple did more than exchange wedding rings when they got married. To solidify their love and commitment to each other, they also each had their spouse's first initial tattooed on their ring fingers. Boyer has photographed her ring finger with her wedding ring pushed forward, exposing the L underneath. Bryan also has the same on his ring finger, but his finger boasts a "C", obviously.
7. One thing she doesn't want to know about her husband
Boyer says that her husband's passions and favorite hobbies include hunting and fishing. Although she admits to getting out on the boat with her hubby at times, one thing you won't ever catch her doing is sitting up in a deer stand on the lookout for a buck. Boyer knows a lot about her husband, but she will tell you that the one thing she doesn't know, nor does she care to know, is how much money he spends on fishing gear. Every couple has a secret or two, and this just happens to be theirs.
8. Gets a famous foot rub every night
Boyer may be one of the most spoiled famous wives ever. According to both Bryan and Boyer, she gets an awesome foot rub every night before bed by her sexy, doting husband, something that helps the bond to grow tighter between the two. They also spend a little quiet time each morning sipping coffee and catching up on their lives, before they get their day going. This is something they believe is crucial to a great marriage since they both have such hectic schedules.
9. She used to smoke and drink
When Boyer was young and in her college years she was known to go out and have a good time like many college aged kids. Also like many young people, a part of a good time includes smoking and drinking. Yes, Boyer admits to having had both of the habits when she was younger, but as an adult and wanting to live a healthy life, she gave up both habits. She is also a vegan, which she also believes is a better, healthier lifestyle.
10. Took a part in one of her hubby's videos
You can't be married to a girl this beautiful and not invite her to be a part of one of your music videos if you are a famous singer. For those who are fans of Luke Bryan, chances are that you have seen some of his videos, and if you have ever seen his video, Crash My Party, then you probably have already spotted her in it. At the end of the video, Boyer is seen in a romantic scene with her husband, kissing in a gazebo at dusk. Even for the cameras, you can see how deep the love runs between the couple.