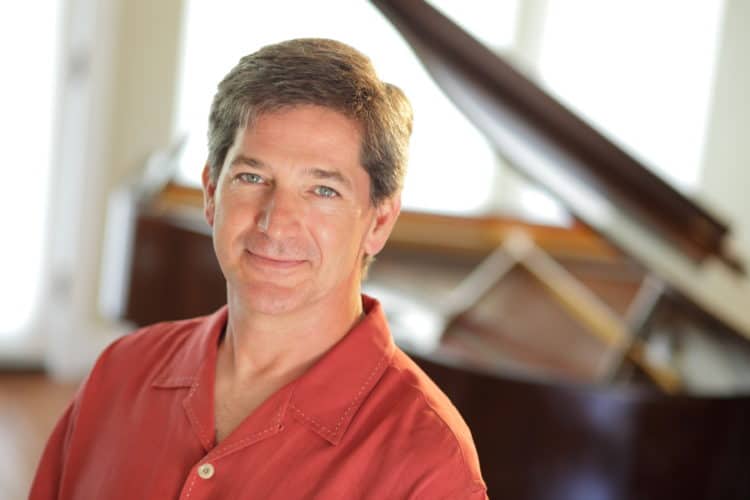 Much to everyone's delight, the launch of HBO Max meant the return of Bugs Bunny, Porky Pig, Sylvester, Daffy Duck, and more in the new, exclusive Looney Tunes Cartoons. The revival has fans reminiscing over some of their favorite classic characters and whistling along to some of the new charming tunes. Emmy-winning composer Carl Johnson is one of two composers on the short-form series. Here are 10 things you didn't know about Carl Johnson.
1. He Wrote His First Musical Composition at the Age of 10
The piece was called "March of the Ants" and basically involved just the black keys. Carl grew up watching the original Looney Tunes shorts on a local TV station and was inspired to write something that had the same kind of humor and energy that he was hearing from those classic cartoons.
2. Carl Built His First Synthesizer at the Age of 15
While Carl was in high school, synthesizers were new and cool (think Styx) but he couldn't afford one. After inheriting a couple of hundred dollars from a great aunt, Carl bought a kit to build a PAIA 4700 modular synthesizer. He spent all summer camped out at home soldering and wiring up this synthesizer. Carl says he never got many sounds out of it, but learned an incredible amount about electronics and synthesizer design.
3. First Musical Job was at Disneyland
The summer before his senior year at the University of Kansas, Carl auditioned for and got into the All-American College Band at Disneyland. He spent all summer (and the following one) playing multiple shows a day in Disneyland with a band composed of really great musicians from all over the country. Carl says he couldn't believe the first time he got his paycheck for being there, and thought, "They're paying me for this? I'd pay to do this!"
4. He Writes His Compositions with Pencil and Paper
While this can almost be seen as a lost art form, Carl approaches each project and composition with a pencil and paper. For Looney Tunes Cartoons, it helped ensure that the sound will be similar across all of his episodes – some of which were recorded with live orchestra and others without.
5. If You're a '90s Kid, You've Heard His Music on Your Favorite TV Shows
Animaniacs, Pinky and the Brain, Gargoyles, Mighty Ducks, Batman: The Animated Series, shall I go on? Carl has composed for some of, dare I say, the best cartoons in television history. It's no wonder he was asked to compose episodes for HBO Max's Looney Tunes Cartoons.
6. He's Been an Orchestrator on Some Box-Office Hits
An orchestrator on a film or television series means someone who helps the composer finish the score on time, whatever it takes. Usually taking the composer's ideas and fleshing them out into full orchestral compositions. Carl's been a part of the music department on box-office hits such as Skyfall, The Magnificent Seven, The Perfect Storm, as well as Pixar's WALL-E and Finding Dory.
7. He's Written Four Full-Length Musicals
Musical theater has always been close to Carl's heart. He's written four full-length musicals, all of which are in various stages of development. Tinseltown Christmas has played several regional theaters in the Los Angeles area. The other musicals include: Mary Marie which featured at the 2014 NAMMT Festival, Bagles! The Musical which had a reading in New York last year, and At Home in Mitford, based on the Jan Karon book.
8. He Created Audio Books for Children with a Neuropsychologist
In 1999, Carl teamed up with his Neuropsychologist brother-in-law to create a series of CDs for children designed to help them develop listening skills and get them away from too much "screen time" on TV and video games. The concept was to make audio-only stories that sounded just like an animated feature film so that the children listening would have to imagine their own visuals to go with what they were hearing. Called Movies in My Mind, it was based on research about how active visualization helps pre-readers develop skills needed for reading. They were even featured on an episode of The Rosie O'Donnell Show!
9. Carl Originally Wanted to be a Doctor
Carl has always loved science and figured it was in his destiny to follow his father's footsteps and become a doctor. When he went to college, he originally planned on going to medical school. However, he soon learned his true passion lies in music. When he finally switched his major to music, Carl claims his parents asked "What took you so long?"
10. You Can Hear His Music at Themes Parks All Over the World
Carl's music can be found at some of the world's largest and most popular theme parks. Though Carl is under contract and can't say exactly which rides you may hear some of his tunes, you may have caught some of those notes if you took a ride somewhere in Orlando, Pigeon Forge, or in China, Japan, Abu Dhabi or Qatar.