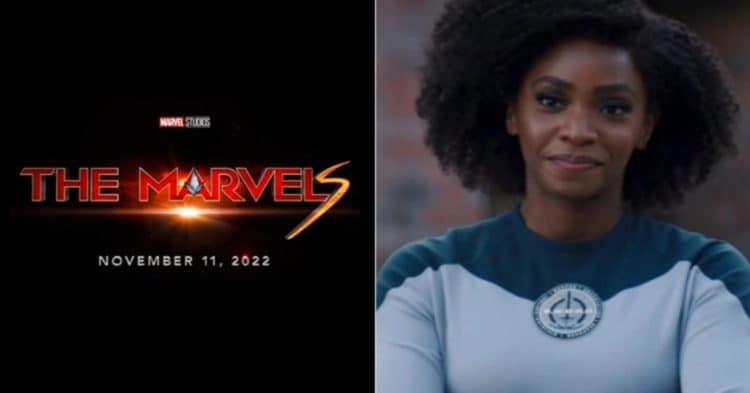 The release date of The Marvels has been confirmed, aka the release date for Captain Marvel 2. The sequel to Brie Larson's superhero movie will be released on November 22nd of 2022. It's good news, since I'm always excited to get another MCU movie. However, I think we should also keep in mind that the first Captain Marvel isn't exactly everyone's favorite MCU movie. Audiences didn't love the film as much as the other MCU films, as evident by the low audience scores on Rotten Tomatoes and IMDb. The scores themselves are a subject of controversy, but that's a whole other topic.
The point is, we're getting a Captain Marvel sequel that will be called, The Marvels. For one, that's already an improvement over the first movie, because it's not a cliched sequel title. For real, I'm glad we're getting past just adding the number 2 to a sequel. It's not very creative and every movie series should take note of this.
Aside from The Marvels title, I've been reading some interesting theories online that could make this movie bigger than I originally thought. Look at ScreenRant, look at ComicBook.com, and you'll read a plausible theory that could build another superhero team for the MCU. Comic nuts like me will be familiar with this particular Marvel team, but if you just like watching the MCU, this could be some interesting information for you.
The Marvels will feature at least three Marvel heroes, two of which we're already familiar with in the MCU. The first one is obvious, the photon-blasting Carol Danvers, aka Captain Marvel. Our second hero is a more secondary hero, but one that is becoming more popular. Monica Rambeau, the little girl and daughter of Carol's best friend, Maria, will be joining her. This time, however, she will making use of her powers of energy absorption. The third hero joining The Marvels will be Kamala Kahn, aka Ms. Marvel.
These are the three "Marvels" that will be fighting together in the upcoming sequel. The lineup makes sense, considering Monica Rambeau and Kamala Kahn are the chief supporting characters to Carol Danvers. On another positive note, we'll be seeing two secondary heroes be further developed. We've seen Monica Rambeau as a child idolizing Carol, and now we've seen her as an adult S.W.O.R.D agent in WandaVision. By the season finale, she has gained superhuman abilities and is apparently meeting Nick Fury with his fellow Skrulls. It will be very fun to see these two interact now that Monica is a totally different character now.
As for Kamala Kahn, her Disney+ show will be coming next year. This will be good for her, since she's a fairly new hero to the world of Marvel. Her solo show will make her more familiar to bigger audiences and set up her relationship with Carol Danvers. Plus, including her will give the MCU more room for that diversity edge they've been looking for.
Now this sounds like a small superhero team for The Marvels, but this could lead to something bigger. The theories that I've been reading on some sites leads me to believe that Marvel could be giving us a whole new Avengers team. Sounds almost like blasphemy, but we also need to remember that times change. Two of the original founding Avengers are dead, two are retired, another is off world, and the final one is taking up a less active role. Needless to say, we need a new Avengers team.
Marvel has done exactly that in the comics, both in the main universe and a separate one. Ever hear of The Ultimates? They were created as an alternate version of the main Avengers back in 2002. Created by the amazing Mark Millar, The Ultimates are basically you're main Avengers, but more violent. This version of the team didn't exactly win fans over, but they had a good run with their comics. While this alternate Avengers team didn't last very long, the Ultimates name lived on with a whole other team in the main Marvel universe.
Guess who became the leader of that team? Carol Danvers was the ideal choice to lead the new Ultimates and added some close friends of hers to the team. This is the team that The Marvels could very well set up. As I read the theories on some sites, I imagined it as a more modern approach to the Avengers. For instance, in the comics, the Ultimates took on a more proactive role in fighting evil, in contrast to the reactionary nature of the Avengers. This new approach contradicts the ideals of Steve Rogers and the many Avengers who followed him.
Now I find this idea very interesting. If Carol Danvers does indeed build the Ultimates from The Marvels movie, then this could lead to some conflict with other MCU heroes. Heck, we got our best taste of this in the second Civil War in Marvel Comics. Carol became more proactive and even militaristic during her time with the Ultimates, and this is something we can see from her as she becomes a bigger character in the MCU. If this does happen, we could possibly get some Avengers out of retirement (like Cap) to lead some new Avengers against the Ultimates.
The two characters from The Marvels could be her first recruits to the Ultimates, but she'll certainly need a bigger team. The comics version of the Ultimates had a very interesting lineup. With Captain Marvel as the leader, she had her friend Monica at her side, as well as America Chavez, Blue Marvel and even Black Panther. I predict that Monica will pick up her Spectrum name at the end of The Marvels. She could serve as Carol's second-in-command, given their history together.
We know that America Chavez will debut in the Doctor Strange sequel, so she can be a candidate for the team. With Black Panther's future up in the air, I wouldn't count on his inclusion to the team. If not him, then it's possible Ms. Marvel will be filling in. That would make sense, since she'll probably become a bigger character in The Marvels.
The character that I want to see most is Blue Marvel. Adam Brashear pretty much has the whole package. He's a former marine, a former fullback, a scientific genius, and received a Presidential Medal of Freedom. As far as his powers go, he's basically black Superman, but with even more powers. The guy is seriously a tank of superpowers, and I can't wait for him to make his MCU debut. When he does, I'm certain he'll join Carol Danvers on the Ultimates. This could give her an advantage if her team ever comes into conflict with the Avengers.
So what are your thoughts, Marvel fans? Do you think The Marvels will set up the debut of the Ultimates?