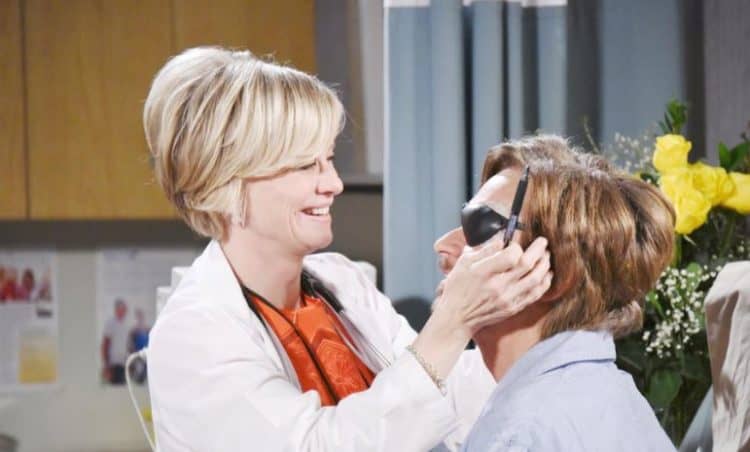 Days of Our Lives fans are shocked that Kate is on board with what Gabi is doing. You see, we know that Kate is not a big fan of Chad being part of her Abigail's life, and she's not someone who wants to see them married. But, this is Chad's baby we are talking about. He thinks this baby is Stefan's, but it's not. And Kate is willing to team up with Gabi to take down Abby and Chad and end their marriage by doing this to them, and we are shocked that she is on board with keeping a baby from him. She loves Chad, and she wants him to be happy (just with Gabi and not with Abby) and we are horrified — as are so many other people — that she's all right with keeping his baby from him with all the pain he must be feeling to know that.
And we know that he is working very hard to try and get to therapy with Abby. She knows he is crushed that his own wife is pregnant with another man's baby even if that man is not someone she, personally, was with. Her other personality was with him and she was not in control of herself at all. It's not a good situation when someone is like this and things are not going the way they planned them to go, but they both want to try and make things work. Chad is not sure he can get over this enough to make their marriage work, but he certainly wants to try. He's not interested in not being with his own wife because of this, but he's not sure he can get his situation under control, either. Can he make it work, or are they super doomed in their marriage?
What's Happening on Days of Our Lives
Join us for a #DAYS event you don't want to miss! https://t.co/t5gcGNWYtn pic.twitter.com/FDVAufjZJt

— Days of our Lives (@nbcdays) August 2, 2018
We have said it before, and we will say it again. There is a super fun even going down for Days fans in Denver in the coming weeks, and you certainly don't want to miss it. It's going to be an amazing situation, and it's just a week away. If you are looking for something to do and someone to do it with, call your favorite Days fans and get them on board for this epic day of fun. It will be worth the time and it will be a memorable day.
What's Next on Days of Our Lives
This week on #DAYS: Eric has an important question for Jennifer, but the moment doesn't go as planned. Watch Days of our Lives, weekdays on NBC. pic.twitter.com/QSnkOyUwcc

— Days of our Lives (@nbcdays) July 30, 2018
We saw that Jennifer decided to accept Eric's proposal, but she's got some doubts in her mind. She had to take a moment to think about this being a good decision for her, and now she's in a situation where she cannot handle what is happening in her own life. She might not have much to go on at this point, but she has a lot to think about at this point. And we wonder if there is a chance this will even work? On that note, we know that there is a chance that Brady is going to continue to work with Stefan, and everyone will work against Chad at this point. We hear he is going to feel Abigail's baby move for the first time, and he will walk out on her and not come back.
We also hear that Will and Sonny will learn what is happening with Leo, and they will be stunned by the truth. What they learn is going to take them down a serious notch, and it's going to make them very upset about many things. We don't think they can handle what is coming their way, and we don't blame them in any way. There is a lot going on here, and we aren't sure they can deal with much of it at all. Can this work, or will they have to keep themselves out of trouble longer than they'd imagined at this point? It could go either way, but there is a chance that what happened to Leo might be so bad that they can't keep it together.
Stay tuned for more Days of Our Lives and be sure to check out TVOvermind daily for the latest Days of Our Lives spoilers, news, and updates.