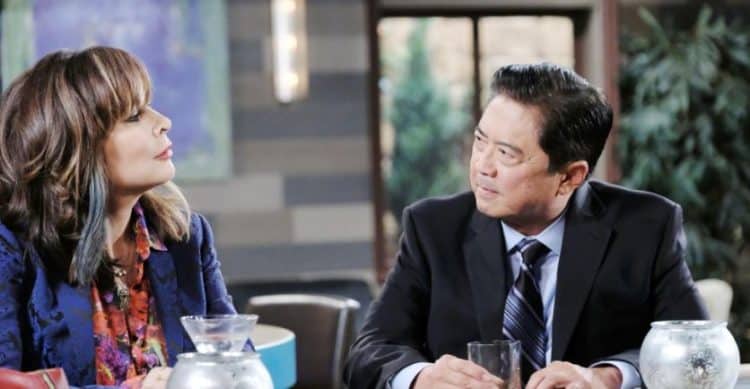 Days of Our Lives fans know that there is so much more to what is going on with Kristin than most people realize, but where does that leave anyone? There is little any one of us can do to make this situation right, but there is even less we can do to get her to get in the trouble she needs to get into before this is all over. She's been hiding out behind Nicole's face, seducing Brady, ruining Gabi and Stefan's lives, and being an overall nuisance as far as anyone can tell. But, we have to ask ourselves what else is going on in her life until now. She is going to get caught now that Gabi is definitely on to her. She is not getting away with anything at this moment, and that's going to end up very clear to her sooner rather than later. She's a mess, and we get it. But, that's not all.
We also know that Will suspects that she is alive. He might not have a clue that she is hiding out and pretending to live her life as Nicole, but he knows. He's shared his thoughts with his husband, and we think that they both assume she is alive and well, which means they will be looking for her. As long as everyone in her life assumes she is dead and gone, they are certainly not looking for her. If they are not looking for her, they don't know there is any evidence that might point to the fact that she is hiding out and living her life as Nicole. But, now that people are on to her secret, she's not going to get away with much for much longer. They will get here. She will not be able to get her.
What's Happening on Days of Our Lives
The magic that is Days. Every character that crosses Tony's path reveals another shade of his long history. Wonderful vets that have been the foundation of Day's longevity. #Days #NBC pic.twitter.com/hoMONpeJFh

— Thaao Penghlis (@ThaaoPenghlis) August 18, 2019
We love this.
What's Next on Days of Our Lives
John & Marlena's 33rd Anniversary Party takes some unexpected turns. Watch #DAYS, weekdays on NBC. pic.twitter.com/TPLnAvXvl0

— Days of our Lives (@nbcdays) August 16, 2019
We cannot decide how things will turn out with Gabi and Stefan in the long run, but we can assume that they might just work for a moment. They are, after all, really into one another. They got into this situation with one another out of pure hatred and disgust with one another, but their physical attraction to one another was too much for them to bear. They caved, but they were not looking for anything serious. Of course, that was until she was caught by his girlfriend in his bed with him, and that didn't go over well with her. They were far less careful with their moments after that, and now they are married and living their best lives. They both hate one another, but they also realize that they are in love. And guess what? Today, they are going to show that love for one another, and they are going to give in to their feelings and just be with one another. It's all good, and it is amazing for them.
Meanwhile, Roman is not really on board with Anna's plan, but he is going along with it to be on the safe side. He feels that he doesn't have that much of a choice in the matter, and he's going to do all he can to be there to make sure her plan goes off without a hitch, though he has some serious doubts about her ability to make that happen. We cannot decide if there is more to this than meets the eye, or if they have more to offer than we thought.
Stay tuned for more Days of Our Lives and be sure to check out TVOvermind daily for the latest Days of Our Lives spoilers, news, and updates.