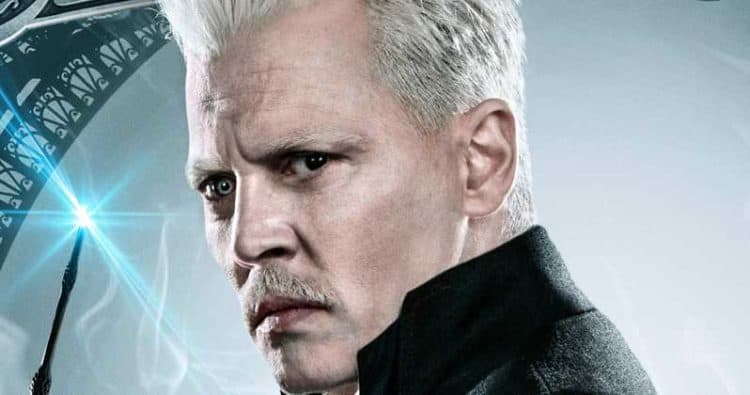 It's just been confirmed this morning that Fantastic Beasts 3 will not include Johnny Depp as Grindelwald. To be more specific, he was actually asked by Warner Bros. to leave the project. Johnny Depp himself confirmed this on an Instagram post, explaining that he was asked to leave and the role of Grindelwald would be recast. He ended the post by saying that he will continue to prove that the allegations against him are untrue and they would not further affect his life and career. This is sad news, considering that Grindelwald is Depp's biggest role in years. The man hasn't had a big hit in years and his fans (including me) were hoping that Fantastic Beasts would help him get his mojo back. Well, it looks like that will no longer be the case. Fantastic Beasts 3 will continue, but with a different actor playing Grindelwald.
I'll just say right off the bat that I've been a lifelong fan of Johnny Depp since I've been small. As far as this whole court case goes with him, there's really not much for me to say. I wasn't there, so I can't give any input on the matter. I will say one thing about it though. He did lose the case in the UK, but there's still another case to take place here in the United States. I'll wait to see the outcome of that case. I think that's only fair. I've read and heard many things from both sides, but it's not my job to analyze those details and make a judgement call. Simply put, I say just wait and see.
All of that case drama aside, I want to discuss the future of the Fantastic Beasts trilogy. I'll just confess that I've only seen the first one. It's a part of the Harry Potter franchise, but to me, it just wasn't Harry Potter. It didn't do much for me, but I did like the cast. I was actually pretty excited for Crime of Grindelwald, considering Johnny Depp would be having a bigger role in it. Unfortunately, the reviews I read deterred me from seeing it. I even heard some YouTube critics call it the worst Harry Potter movie. Every review I listened to said that the plot had low stakes, focused too much on setting up future sequels, and just lacked that Harry Potter charm. Heck, they even said Jude Law's Albus Dumbledore was barely in the movie.
As a fan of the Harry Potter franchise, hearing that criticism disappointed me. The critics did, however, say that Johnny Depp killed it as Grindelwald. That made me happy, so instead of watching the whole movie, I went on YouTube and watched all the Grindelwald scenes. Depp's performance as the new big bad Harry Potter villain impressed me. He was a good choice to play the character and I was convinced that Grindelwald was a worthy villain to the franchise to rival Voldemort. To me, it seemed that Johnny Depp has finally found a role that he could stick with and that suited him well. Perhaps it could even get his career back on track. Yeah… no.
Johnny Depp has always been an immensely talented actor. I do believe that he's past his prime, but having him attached to the Fantastic Beasts movies really helped draw a crowd. Not all the fans were happy about him coming aboard, but clearly, enough fans showed up to see Crimes of Grindelwald. Personally, I enjoyed the other actors in the film, but Johnny Depp sure did stand out. I believe his presence helped the film succeed and he was going to pose a serious threat to the heroes in the third movie. Unlike Voldemort, Grindelwald would get his hands dirty and throw himself in the heat of battle. He was an intimidating villain and Depp's stellar performance is what exacerbated that.
I'm going on about Depp's performance as Grindelwald because it raises one important question. Can Fantastic Beasts 3 succeed without Johnny Depp? There will be a Grindelwald, but no Johnny Depp to play him. The short answer, in my opinion, is no. There are several reasons as to why, but the biggest would have to be the reception of Crime of Grindelwald. The majority of critics and fans alike didn't seem to crazy about it, but many agreed that Johnny Depp was great. They also didn't really buy it when J.K. Rowling claimed that the script she wrote was something she's been "planning for years."
Speaking of J.K. Rowling, Harry Potter fans aren't too happy with her. After she made some transphobic comments online, fans and even some cast members have openly criticized her. When the creator herself says questionable things, it doesn't look good for her creation. So Johnny Depp's supposed actions isn't the only thing that made some fans turn away from Harry Potter. After Rowling's controversial comments, a lot of disillusioned fans might not even bother with the next Fantastic Beasts movie, regardless of the issues with Depp.
The worst thing about Crimes of Grindelwald is that J.K. Rowling herself wrote the script. When I heard critics say it's the worst written Harry Potter film, it made me raise an eyebrow. How does the creator write a script that's worse than the other scripts that she didn't write? I mean, she's the creator of the franchise, so that should mean she knows the material better than anyone, right? Apparently not. She very clearly did not plan anything twenty years ago. Even if you're a Harry Potter fanatic, that's a pretty hard pill to swallow. It makes me wonder if Warner Bros. really has a plan for this franchise. It's still a part of Harry Potter, but without Harry Potter himself, it feels like just another fantasy movie.
I don't know what Rowling was thinking when writing Crimes of Grindelwald. If she wants to restore the faith of her fans, she needs to talk things through with Warner Bros. Without Depp's talent, they just dug their own graves. The only way they can save Fantastic Beasts 3 is to cast someone who can do better than Depp. Personally, I have no one in mind, but I heard a funny rumor. The actor I heard that will replace Depp is none other than Robert Downey Jr., who is a very good friend of Depp's. I just got to say, I think that's hilarious. Maybe it's because I'm used to seeing Downey in more comedic roles, but I'm actually game to see him as Grindelwald. He and Depp are friends, so I can see Depp encouraging Downey to take the role.
Can he do better than Depp, though? I guess there's only one way to find out. If it happens, I'll be excited to see Downey take on the role. Heck, I kind of want it to happen. Can you remember the last time Robert Downey Jr. played a villain?
What say you, Harry Potter fans? Do you think Fantastic Beasts 3 is better with or without Johnny Depp? Let's keep our ears open on that recasting. I hope they find someone good. You know what? Just hire Robert Downey Jr. already.