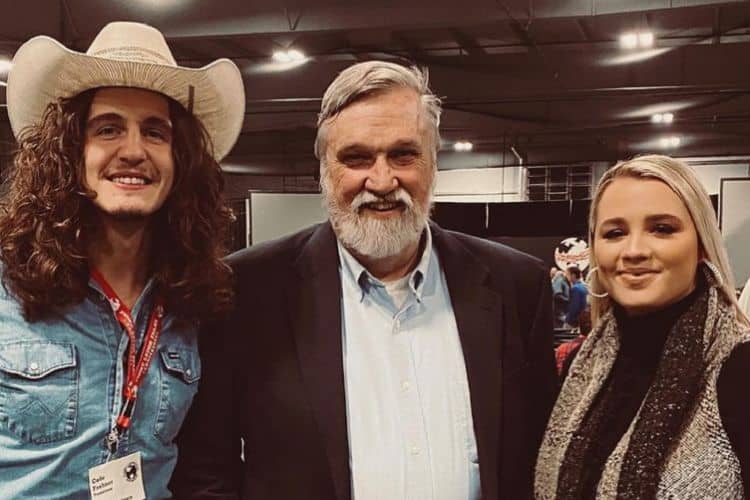 For almost 20 years, American Idol has provided a platform for aspiring artists to get a chance at fame. When Cade earned a spot on the show during season 16, he was very excited about the opportunity. Judges and fans quickly fell in love with his voice and it looked like he might make it all the way. Unfortunately, he was eliminated after reaching the top five. Still, the show proved to be a great experience and it has resulted in an an ever growing fan base. Outside of music, Cade has also had a lot of positive things happen. He and his wife and fellow former American Idol contestant, Gabby Barrett, recently welcomed their first child. Keep reading for 10 things you didn't know about Cade Foehner.
1. He Was In A Band
The world is more familiar with Cade as a solo artist, but there was a time when he was in a band. Prior to audition, he had spent several years in a band called Johnson's Lost Crowes. It's unclear why the band decided to split up, but it looks like they stopped performing together sometime in 2016.
2. His Faith Is Very Important To Him
Cade is a very devoted Christian and he keeps his religion at the forefront of everything he does. His Instagram bio reads, "Sinner saved by grace through faith in Christ alone" and much of his social media content is centered around religion. When he first got involved with music, he was part of the worship team at his local church.
3. He Is A YouTuber
Music isn't the only kind of content Cade likes to share with the world. He's also become a pretty successful YouTuber. While a lot of his videos are music related, he has also uploaded other things. Recently, he has even started posting podcast style videos. At the moment his channel has more than 40,000 subscribers. Now that Cade and Gabby are parents, there are a lot of people hoping to see more videos that focus on the family.
4. Jeremy Vuolo Officiated His Wedding
When Cade and Gabby got married in 2019 their wedding was officiated by Jeremy Vuolo. Counting On fans may recognize Jeremy's name from his appearances on the show and his relationship with the Duggar family. Jeremy was also a professional soccer player for almost a decade.
5. He Loves Horses
Cade's cowboy-esq appearance isn't just for show, what you see really is what you get when it comes to him. Cade was born and raised in east Texas and he is very proud of his western roots. He loves horses and spent several years riding rodeo when he was younger.
6. He Was Always An American Idol Fan
Getting the chance to compete on American Idol was truly a dream come true for Cade. Not only was he motivated by the possibility of winning, but being on the show had always been a dream of his. He grew up as a fan of the show and once he heard it was returning to the air, he knew he wanted to be a part of it.
7. An Injury Led Him To Music
Cade isn't the type of musician who has loved music since before he could talk. Instead, rodeo was his main focus, but that all ended when he broke his leg after falling from a horse. After the injury he decided that he wanted to try something different and he asked for a guitar for Christmas.
8. He Has Spoken Out Against Racism
It's no secret that Texas has a history of being very conservative. While Cade isn't really someone who speaks openly about his political views, he has made it very clear that racism needs to end. In a video on his YouTube channel, he shared his thoughts on racism and his opinions on what can be done to eradicate it.
9. He Is Very Active On Social Media
After his appearance on American Idol, there were countless people who wanted to keep up with what Cade was doing. He has done a great job of keeping people in the loop thanks to his social media activity. He is very consistent with Twitter and Instagram and provides personal and professional updates.
10. He Won A Guitar Competition
Cade's singing may have been the main focus during his time on American Idol, but his voice isn't his only instrument. After getting a guitar as a Christmas gift, Cade spent lots of time practicing and learning. He went on to win the Texas 10 Under 20 competition which awards musicians under the age of 20.
Tell us what's wrong with this post? How could we improve it? :)
Let us improve this post!