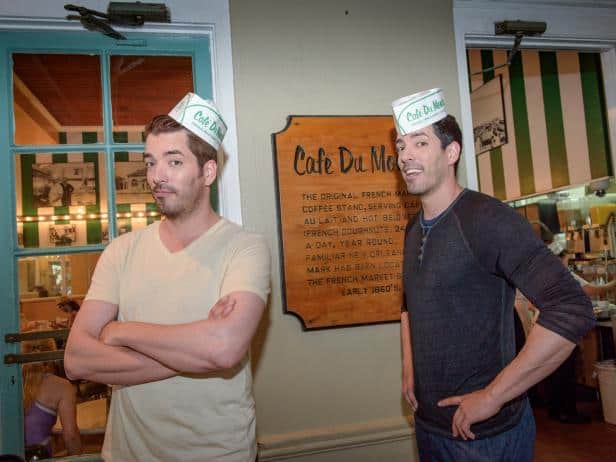 Just about anybody who watches HGTV (Home & Garden Television) knows that two of its biggest stars are the Scott brothers. Jonathan and Drew Scott are Canadian twins who now live in Las Vegas when they're not on the road filming 60 full-blown renovations yearly. Their first show on HGTV was the Emmy-nominated "Property Brothers". This is a very popular show that chronicles individuals or couples who want to buy a home, but as is often the case, they simply can't afford everything on their new home wish list.
So, the Property Brothers renovate a less expensive home for them. Drew is a seasoned real estate agent and a real pro at finding excellent home choices that suit their needs. Jonathan has been a licensed contractor for 15 years and is a magician when it comes to construction and design. The result is a gorgeous reno with everything updated and as modern as can be.
The second brothers' series is called "Buying and Selling" with a similar theme, however, it revolves around a family who needs to sell their current home and move to a larger, smaller or better located home. The problem is their home isn't really saleable, so Jonathan takes care of that issue with a reno, while Drew finds the family a new home, hence the show's name, of course.
Their third show is called "Brother vs. Brother" and is the one that is most closely related to their newest brainchild "Brothers Take New Orleans". The similarity is that the series of shows is a competition between the brothers with guest stars who judge each weekly show, deciding which brother did the better reno job for that particular week. It'll be a four-episode series and the brothers will be competing to see who ultimately scores the highest property value on their reno. The winner will be chosen by a panel made up of local real estate experts. The series premiered on on HGTV on Wednesday, Nov. 23, at 8 p.m. and will have four episodes.
Just as 2015's "Brother vs Brother" was a very exciting adventure in reno competition that kept us coming back for more each week to see what would happen next; "Brothers Take New Orleans" promises to do the same but with a southern twist. Or, as the brothers would say "Sibling rivalry is heading South!" So, here are some things you may not have known about the newest Scott Brothers Entertainment show:
1. Historic District
The New Orleans property that they are splitting down the middle and renovating is a dilapidated double-shotgun home with two separate units. It's in the historic district, which leads to some tricky situations. In the historic district, they can't make any changes to the exterior. They are allowed to do whatever they want to the interior. The committee does make them add all new siding to the entire building, costing them a big chunk of their budget.
2. Budget
Each brother has $100,000 to renovate their "home", which is half of the property each. On top of that, they have $25,000 for updating the exterior. Both Jonathan and Drew decide to spend $30,000 of their budget on each of their respective living room renovations since this is the room that is first on their list.
3. Celebrity Judge
On the first episode of "Brothers Take New Orleans", the first celeb judge is none other than Scott Bakula, star of "NCIS New Orleans". He tours the two completed spaces, which happen to be the living rooms in both homes. He loves the results of what both brothers did with their spaces, but in the end, he chooses Jonathan as the winner.
4. The St. Bernard Project (SPB)
The show worked with SPB, which is a local nonprofit group. SPB assisted Drew and Jonathan with finding a house that was seriously in need of help. When both brothers' homes are finished, SPB will choose two families to give them to. SPB has been re-building homes for many families in need that were feeling the effects of Hurricane Katrina's devastation locally.
5. Finding Inspiration
Ever since they first visited New Orleans to scout locations, the brothers have been working with some local artists on infusing the distinct character of the city into their home renovations. They have been soaking up Big Easy inspiration by touring famous landmarks and meeting with celebrities with ties to New Orleans. Every episode will be featuring Drew and Jonathan exploring New Orleans, experiencing the local culture, and meeting the local people.
6. 1904 French Quarter House
The house they are renovating was built in 1904. Ever since Hurricane Katrina, which was 11 years ago, no one had lived in the home. It had been deteriorating all that time and suffered from termite damage, mold, mildew and the effects of destructive squatters. The roof had been ripped open and the wiring ripped out. Everyone thought it had gotten to the point where it was deemed to be beyond repair. Because of that, neighbors were eagerly anticipating the reno project.
7. Floorplan
The home offered a traditional shotgun floor plan. In a shotgun plan of that era, all of the rooms ran from front to back with no hallways. Each room simply led to the next and the next and so on. Feeling that this plan was too narrow to flow properly by today's standards, the brothers decided to change it. They split it up into two units, one front, and one back, making each one nice and wide.
8. Two Totally Different Styles
For the design of the house, Drew was focusing on incorporating numerous original architectural materials. Fo example, he used some old floorboards for kitchen shelving. He also used them in the master bedroom for a canopy and a headboard. On the other hand, Jonathan opted for a "vintage remix". It gives his space a much more contemporary feeling design while still utilizing some amazing vintage New Orleans colors.
9. Hoda Kotb Comes to Town
The competition will really be heating up for Jonathan and Drew on the second episode. They'll be renovating their respective kitchens. Again, Jonathan is doing a vintage re-mix and Drew is doing his own modern version of a NOLA design. And, Hoda Kotb of "The Today Show" fame will be traveling to The Big Easy and judging their kitchens.
10. Hard to Tell Apart
Just about everybody says that they have a difficult time telling the two identical twin brothers apart. In fact, on one of their "Property Brothers" shows, they did a reno for a pair of female identical twins who delighted in fooling the brothers throughout the show. So, they turned the tables on the girls and Drew dressed up exactly like Jonathan and did a "gotcha" that was pretty funny. They really had them fooled! But, now it may be a bit easier to tell them apart since Jonathan admitted that he may have put on some weight in New Orleans from indulging a bit too much.