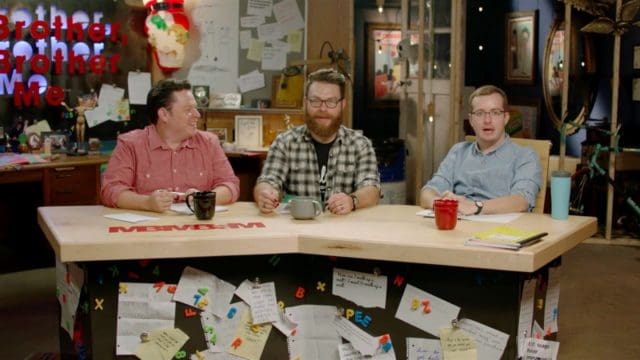 Last June, I was spending a week with some friends while we played video games for charity (it's a long story), and, during some downtime, a couple of them were watching a video on a phone. I couldn't see what was going on, but both of my friends were laughing non-stop. Finally, I asked what they were watching, and I was introduced to Polygon's Monster Factory video series on YouTube. The series is great (I still watch each episode within an hour of release), but the thing that makes it so, so good is the chemistry between its hosts, real-life brothers Griffin and Justin McElroy. After binge-watching every episode of Monster Factory as quickly as my eyes would let me, I was desperate for more McElroy content. It was while searching for this content that I finally came across "My Brother, My Brother and Me," a comedy advice podcast hosted by Justin, Griffin, and their third ("middlest") brother, Travis. Very quickly, the McElroy Family of Podcasts took over my life (as the brothers and their extended families have for so many others since MBMBaM launched in 2010), and I haven't been the same since.
A few months ago, the good, good goof boys announced that the hit podcast was going to be made into a streaming TV show by Seeso, and fans waited with bated breath for the debut. At long last, My Brother, My Brother and Me has released its first season, and, I'm thrilled to say, it's absolutely perfect, and fans can now see the brothers in a brand new way.
As the McElroys might say, "they horny for this one."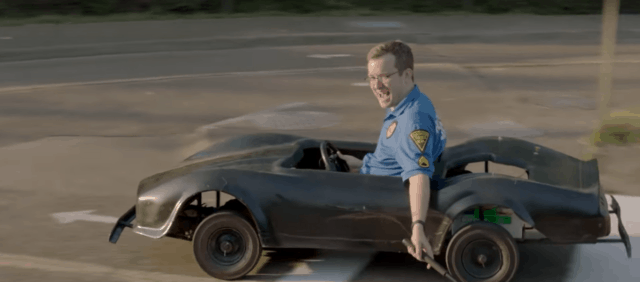 The first episode of the season, "Dorms & Ghoulsmashing," perfectly translates the format of the podcast to television while still expanding it in necessary ways for a new medium. In the episode, the McElroy brothers receive a letter from someone worried that their college dorm room might be filled with haunted artifacts. As longtime listeners already know, the brothers are basically experts in ghosts and haunted dolls, so seeing the McElroys go ghoul hunting is something that, while abnormal on the surface, feels normal to the audience. The episode also features the series' first guest stars in the form of TV's The Property Brothers, and it offers a direct reference to years of podcasting through a Haunted Doll Watch, a recurring goof that fans will love and new viewers will easily understand.
The third episode, "Tarantulas & Travis Did a Hit" (which was the first episode screened to the public), continues this format. In it, after a wonderfully spontaneous cold open, the brothers, just like on the podcast, take a question from a viewer and turn it alchemy-like into wisdom. This time, the question is about how to get a man's wife to let him have a tarantula in their home. The wife (just like Travis McElroy) is not at all about spiders, so the brothers set out to "rebrand" tarantulas into "ranchos" to make them more tolerable. This effort consists of the brothers going around their hometown of Huntington, West Virginia, and interacting with dozens of the locals that make up the town's color. One of the best goofs from the episode sees the brothers trying to convince the mayor of Huntington to let them have a rancho parade through downtown and being turned down, only to later go through with the parade anyway (as Griffin points out, it's better to ask forgiveness than permission).
The season's best episode (not to diminish the rest, though) may be "Teens & Your Least Favorite Soda," which features a great look at teens from the perspective of three 29+ year old men. The brothers' gateway into teen-dom is Justin's sister-in-law Rileigh (an actual teen), and I found myself having to pause the episode multiple times because I couldn't stop laughing, and that's not really an experience that I have with many things in this world. It also features, without spoiling anything, the most terrifying box I've ever seen in my life, and I can't wait to see this one spin-off into the next great horror movie.
Just like with the podcast and its related series, My Brother, My Brother and Me works almost entirely because of the chemistry between the McElroy brothers (and, occasionally, with their dad). It's almost impossible to not burst out laughing whenever Justin is chided for not being able to go through with a goof or Travis releases some brotherly rage after his siblings mess with him. The interaction between the brothers and the locals of Huntington also works shockingly well (especially when you consider, as they're quick to point out, these aren't the most social of brothers in the world), and the color that is added to the show helps it to stand out among "similar" shows (even though there's nothing else quite like MBMBaM on TV). What other show would invade a high school class, split the students into teams, and then take them out into the woods to get them away from their phones and social media?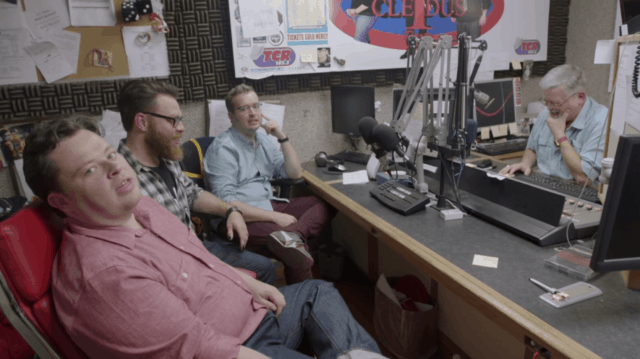 Another extremely admirable aspect of the show is the love that clearly went into portraying Huntington in a positive light. Like the McElroy brothers, I was born and raised in a small town that isn't always looked upon in the brightest of ways. The brothers have seen how Huntington is sometimes shown to the world at large, and it's obvious that they wanted to show the city in a very different way. This is a town made up of very normal people and teens, but it's also incredibly relatable while still having more than its fair share of eccentric citizens.
The series is bolstered with the addition of some very notable guest stars, such as "Weird Al" Yankovic, John and Hank Green, and Lin-Manuel Miranda (a MBMBaM superfan), but it's so easy to see why all of these people wanted to be a part of this experience once you've finished the season. People gravitate to these brothers and their particular brand of comedy, and, believe it or not, television seems to be the perfect way to express that brand.
My Brother, My Brother and Me is unlike anything else on television. The chemistry is electric, the goofs are non-stop, and the care that went into its production will surprise even the staunchest in the audience. Does every single joke land? No, but that's fine. Not every joke has to be a hit for everyone, because it will certainly resonate with at least one member of the audience. Just like everything else the McElroy brothers touch, this show is truly something special.
Like the Chilean miners emerging from the depths of the earth, so too have Justin, Travis, and (Forbes 30-under-30 media luminary) Griffin McElroy emerged onto television.
And we are all the better for it.
Have you checked out My Brother, My Brother and Me on Seeso? If not, you should! If you aren't ready to commit to yet another streaming service (or don't live in the US), you can give the season a test-run with a free episode available on YouTube. Let us know your thoughts in the comments down below, you cool babies!
"My Brother, My Brother and Me" Season 1 Review
Summary
My Brother, My Brother and Me makes the leap to television in an absolutely perfect adaptation of the McElroy brothers' humor and antics.