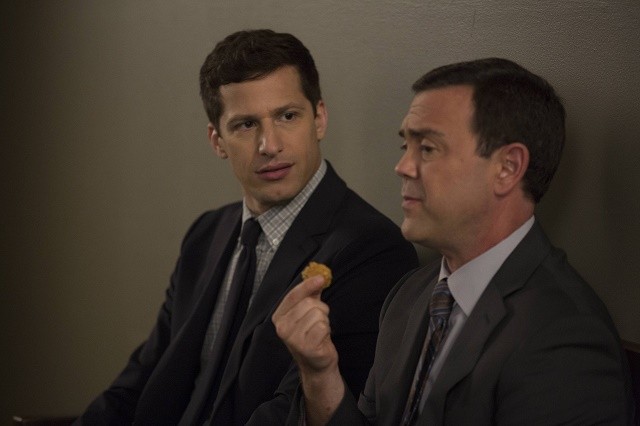 In this week's episode of Brooklyn Nine-Nine, we were gifted our first true Charles/Jake-centric episode of the season, as the two best friends tried to exonerate a woman who was essentially perfect for Charles. We also got our first real dose of Hitchcock and Scully, who were suspected by Rosa and Terry as being ice cream thieves. Amidst the craziness and humor, this episode managed to touch on an important issue in our society today: the way in which the public views cops. Combined, this all made for a solid episode that hit the right mix of comedy and self-awareness.
In last week's episode, Charles dealt with the fact that relationships without an emotional attachment weren't something he was able to do. With the help of Rosa and Gina, he managed to realize that he should be searching for someone truly compatible with him. This led us to this week's episode, where after a handful of failed attempts with online dating (apparently putting financial information in your profile WILL lead to catfishing), Boyle was not feeling very optimistic. That is, until he met Genevieve, who happened to share all the same unusual interests and hobbies as him. The only problem: she had just been sentenced to ten years in jail for insurance fraud.
Like any good best friend would do, Jake offered his assistance in helping prove Genevieve innocent. This led to perhaps one of the most humorous scenes in the episode, when Jake and Charles went undercover at an art gallery in an attempt to gather evidence on Genevieve's ex, who they thought really did it. These two characters play so well off of each, with the perfect amount of absurdity that is ever present in any lasting friendship.
Their hijinks eventually led to a disappointing discovery that Genevieve had stored stolen art in her storage unit. But with a little extra detective work from Jake, who continued to investigate after Boyle had given up, they were able to pin the true criminal. I was happy to see Brooklyn Nine-Nine focus on these two characters' friendship, giving a small break from the attention on the Jake/Amy relationship. While both pairings work really well together, we all know that too much of a good thing can become boring.
While Jake was focusing on his friendship with Boyle, Amy returned to what she knows best: seeking Holt's praise. Brooklyn Nine-Nine once again found a creative way to bring Holt and Gina into a story with other characters from the Nine-Nine, proving we have nothing to worry about there. This time, it was through an idea of Holt's to put up posters around town featuring a picture of Amy, celebrating cops. Thrilled to be recognized by Holt, Amy immediately agreed to the plan while Gina voiced her doubts about it. She didn't think the public would react well to the posters, but this didn't stop Holt and Amy from going ahead with it.
Unsurprisingly, the public had the exact reaction that Gina predicted, as they writing graffiti as well as real complaints on the posters. A very interesting commentary on an issue that is present in our society today, the show tactfully took on the topic of how the public views law enforcement. Not many comedies would come close to touching such a controversial topic, but the way in which Brooklyn Nine-Nine handled it was quite impressive. After such a negative reaction to the original posters, Holt came up with an idea for a new poster to hang around town, offering his email address to the public and letting them know that they could contact him with any ideas or complaints to improve the work they were doing. Throughout this plotline, there were brilliant moments of comedy mixed in, especially from Gina who made sure the other two knew she was right.
Hitchcock and Scully also did what they do best, adding some humor and levity in an episode that needed it. After finding that someone had eaten her Moose Tracks ice cream, Rosa went on a rampage to try to prove that it was the ridiculous duo that had done it, dragging Terry into her cause. The two detectives stopped at nothing to pin the great ice cream robbery on Hitchcock and Scully. We got to see the anger we've come to associate with Rosa come out again, as she took this crime very seriously. And rightfully so: stealing ice cream is no laughing matter. Rosa and Terry's determination finally paid off, when they found evidence that proved it was the boys who had eaten the ice cream. But in the end, Hitchcock and Scully walked away with free ice cream and pizza, so who really was the winner in the whole debacle?
[Photo credit: John P Fleenor/FOX]
Tell us what's wrong with this post? How could we improve it? :)
Let us improve this post!