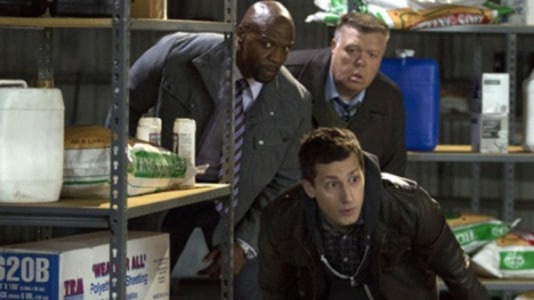 Tonight's episode of Brooklyn Nine-Nine was centered around how we view ourselves and each other. For Hitchcock and Scully, this meant proving they could work a case no matter what the rest of the precinct thinks of them. And for Holt, it meant realizing that those we see as heroes may not actually deserve to be on the pedestal we put them on. As the characters went outside of their comfort zones, some facing fears while others only wanting to prove that they are valuable members of the team, they all learned important lessons about themselves.
Having always been in the background as 'house mouses,' doing paperwork and never entering the field, we haven't seen Hitchcock and Scully featured in many episodes. I'm happy to report that more of this lazy duo was definitely a good thing, as Jake challenged them to work a case he didn't want, insisting that Terry didn't believe they could handle it. When the case grew even bigger than expected, the inexperienced pair found themselves in quite a bit of trouble, with Hitchcock being taken by mobsters. While an episode solely centered on his attempt at going undercover would have been hilarious in it's own right, this disaster they found themselves in proved to be just as funny.
Unsurprisingly, the duo really couldn't handle the case alone but it was because of them that Jake's plan worked to get them out of severe danger. No one can deny Hitchcock's skill with the desk chair any more than they can deny Scully's ability to sweat it out when he really needs to. While these two aren't necessarily what one would consider 'heroes,' they have proven in their own way that they can stumble upon successes. We saw this in the escape room episode earlier in the season and again in tonight's episode. Their ways are unconventional but they do bring a certain strange and unusual skill set that has been useful over the seasons. In the end, they were able to prove to both Jake and Terry that they are valuable members of the team, despite appearances.
This episode of Brooklyn Nine-Nine also featured a side of Holt that we rarely see, one who let professionalism go when faced with working a case for his favorite musician. Taking lead on the case over Charles, Holt let his love for the oboist blind him to what was really going on in the case. There are very few times in the show's run that we've seen Holt drop that professional mask, especially at work, and to see him do so here was highly entertaining. But like so many of us, he had to realize that his hero wasn't really a hero at all. Instead, he was just a struggling musician that stooped to faking a robbery so that he could collect insurance money. It was thanks to Charles, who was there for Holt on the case when Holt was blinded by his emotions, that the case was solved. This role reversal between characters was fun to watch and proved to be an interesting take on what happens when those we put too high on a pedestal turn out to not deserve it at all.
While Scully and Hitchcock had to go outside their comfort zone by entering the field in this episode, the girls in the precinct did so in a different way, by facing their fears. For quite possibly the first time ever, Gina and Rosa agreed to go along with Amy's plan for each of them to face their biggest fears: claustrophobia, business men, and having blood drawn. Seeing the strength in the other two who were able to do this, Rosa took a big step and was willing to face her own fear, showing how valuable these three really are for each other's growth. Any chance we get to have a storyline with all three girls is a gift and while this was obviously the C-story in the episode, it rounded out what was overall an solid episode. It may not have been as big on laughs as other episodes this season, but it still brought entertainment value in other ways, as we got a look at different sides of these characters.
Summary
Hitchcock and Scully set out to prove themselves in another solid episode of Brooklyn Nine-Nine.