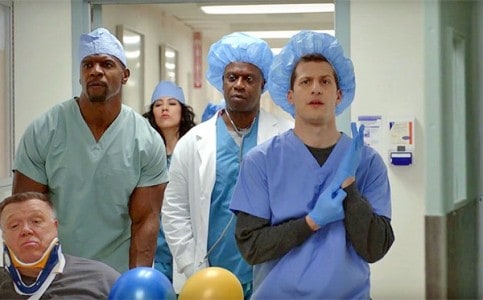 It's not often on Brooklyn Nine-Nine that we get to see the whole squad working together on the same case. In the season three finale, however, that is exactly what we were treated to as the high stakes forced everyone to come together in a very entertaining episode that capped off a great season. When we last left our heroes, Holt was being held at gunpoint by Bob, an FBI agent who was secretly working for the mob. Having just realized that he wasn't on their side, Jake and the others tried calling Holt, only to find that he wasn't answering. Last night's episode started with them tracking Holt down and ended with everyone chipping in to take down Bob and dismantle the mob.
While Amy and Charles hoped on a flight right away to return home from where Amy had spent time undercover in a prison, everyone else made their way to the hospital where Gina had discovered Holt was by using a tracking device. Using their honed detective skills, they were able to follow the trail of chocolate Holt left them to find him and Bob on the roof (Scully's strange texting techniques also played a big role in their discovery of Holt, showing that while he and Hitchcock may be incompetent, they can be useful). It was Terry who successfully took down Bob and freed Holt, with everyone playing to their strengths to help on this rescue mission.
The squad then had to figure out what to do with Bob, knowing that his accomplices were on their way to put an end to this. The natural choice of course was to take him to Rosa's apartment, a place no one had ever been before. Another layer of hilarious mystery was added to who exactly Rosa is, as we discovered that everyone in her apartment complex knew her by a different name and a different, more bubbly, personality. One of the best parts of this show over the years has been adding little pieces of information to what we know about Rosa Diaz, if that is even her real name, and this episode definitely added a lot to that.
Back at Rosa's, everyone took their shot at integrating Bob, hoping to make him tell them where the file they'd stolen in last week's episode was. While everyone's techniques were interesting and completely in character, providing for a truly fantastic montage, no one was able to crack Bob. That is, until Amy and Charles, who until this point had been sharing sundaes together on their flight home, came in to save the day. Amy had obviously been freaking out about Jake, Holt, and the others being in danger and not being able to help them, something Charles was able to talk her down from, showing the strength of that friendship.
Having been texting with Jake, the two showed up at Rosa's and tricked Bob into thinking the mob had found them, forcing everyone except Jake and Rosa into Rosa's panic room. Once there, Bob in distress revealed where the folder was hidden and immediately Jake and Rosa were able to find it, once and for all having the evidence they needed to take down the mob.
It's not all smooth sailing for the squad now, however, as the episode ended with Jake receiving a call from the leader of the mob, who had managed to escape being caught, threatening to kill him and Holt. In another cliffhanger, the show flash forwarded a month, showing the two men living in Florida, assumedly under witness protection, leaving a giant question mark as to how everything will play out next season. My guess is that by the end of the season premiere, we'll see Holt and Jake back with the Nine-Nine, similar to the cliffhanger between seasons one and two, where Jake found himself working undercover only to join everyone again at the start of the second season.
Each member of the team played a vital role in capping off this multiple episode long mission to take down the mob so that Pimento could return home. The reason this show has been successful is because these characters play so well off of each other, and by putting everyone together on this one big case, the show was able to highlight that. Capping off another great season, Brooklyn Nine-Nine proved that they were more than able to do a multiple episode arc, adding suspense and even some drama to the show that we hadn't seen before. Of course, they kept up the great comedy throughout, leading to their best stretch of episodes yet.
Summary
The whole squad worked together to take down the mob in a fantastic ending to Brooklyn Nine Nine's third season.