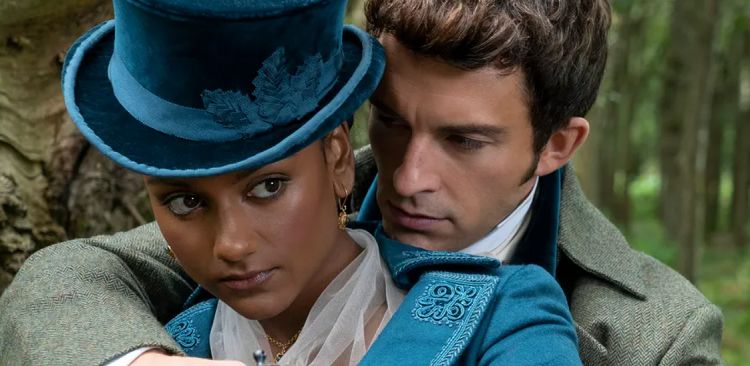 If you had any doubts that a love triangle was ensuing between Anthony, Kate, and Edwina, that notion was quelled in Bridgerton Season 2, Episode 3 as Anthony and Kate briefly leaned into the attraction they felt for one another. Anthony shows excellent concern for Kate when she hears stung by a bee, being that her father died from an allergic reaction to a bee sting. Lady Featherington's scheme to get Cousin Jack to marry her daughter Prudence was successful. Is her family's financial future secured?
Bonding Time
It's Lady Bridgerton's annual Hearts and Flowers Ball on Bridgerton Season 2, Episode 4. the final day of the Sharma's weekend interlude with the Bridgertons. Edwina is concerned because Anthony has yet to propose to her, and she blames Kate for his hesitation since she has been tough on him since the beginning. Edwina decided that if Kate and Anthony spent a little more time together, they would probably learn a lot about each other and learn to coexist as future in-laws at least. So, she sends them both off riding to spend the day bonding. How naive can she be? Edwina doesn't see that forcing her sister and Anthony off together will only stoke the flames of passion that are slowly but surely threatening to explode. This is yet another sign of Edwina's naivety and shows how young she is compared to Anthony and her sister.
The Hunting Trip
Thanks to her sister, Kate joins the men on their hunting trip. Initially, she was hesitant, but once Anthony challenges her hunting skills, she agrees to accompany them, escorted by the poor maid who can't even balance herself on her horse. Since her father was the secretary for the royal family in India before he passed, Kate had the privilege of going on several hunting trips for the family. Is there anything that Kate can't do? The tension between Kate and Anthony is thick as they make their way into the woods. Kate tries to talk to the viscount about what happened between them during the bee sting incident, but she can't bring up the topic. Meanwhile, Anthony tries to maintain his composure as he catches a glimpse of Kate's thigh.
Kate decides to ditch the group, and Anthony follows. Once alone, he accuses Kate of trying to come onto him by placing his hand on her bosom in the garden, and she reminds him that she was only trying to help him calm down during his panic attack. However, the lovebirds get distracted when they catch sight of a deer. Anthony and Kate share another intimate moment when the viscount tries to show her how to hold a British gun. They are seconds away from kissing when the rest of the party appears ready to ride back to Aubrey Hall.
A Visit To The Cranes Residence
Collin is on a mission of his own. He takes a trip out to the Cranes' residence to visit Marina. He's surprised to learn that Marina gave birth to twins. Marina is now married to Sir Phillip, and they have built somewhat of a beautiful life. Marina doesn't try hard to hide her annoyance when Sir Phillip comes home and invites her former flame to stay for dinner. After dinner, Marina confronts Collin about his reason for coming, and he admits that he wanted to make amends for the past. He lets her know that he has forgiven her for trying to deceive him about her pregnancy. It's evident that Marina still has a hold on his heart because he points out that she doesn't look happy. Marina lashes out at Collin, calling him a boy for having silly fantasies about love. Whether she loves her husband or not, Sir Philip is a great father to her children, and he takes good care of them all. As Collin leaves, she urges him to open his eyes to the love right in front of him. Of course, she's referring to Penelope.
Kate's Blessing
Bridgerton's ball is filled with drama, as expected. Eloise is upset when she's forced to accept her first foray on the dance floor, which turns out to be a disaster. On the other hand, Edwina is excited because she believes that tonight is the that Anthony will finally propose. But first, Kate has to give her blessings. Edwina forces Kate on the dance floor with the viscount to make the final proposal arrangements. Before Kate grants her permission, she asks Anthony if he believes he can genuinely make Edwina happy. The question triggers him, and he accuses Kate of trying to sway his decision. Kate makes it clear that once Edwina is married, she will immediately go back to India. Distraught by the idea of her leaving, Anthony storms out of the ballroom. Kate goes after him.
Kate and the viscount get into yet another heated argument about their disgust for each other. But this time, Anthony takes the stubborn woman into his arms and dares to say that she feels nothing for him. If she does, he promises to walk away. Just when they are about to lock lips, Daphne mistakenly barges in and hurries back out. Anthony tries to explain the situation to his younger sister, but she's the only one who understands what's going on between Kate and her brother. Daphne even compares their situation to what transpired between her in the Duke last season when Anthony forced him to marry her sister. Anthony is in denial.