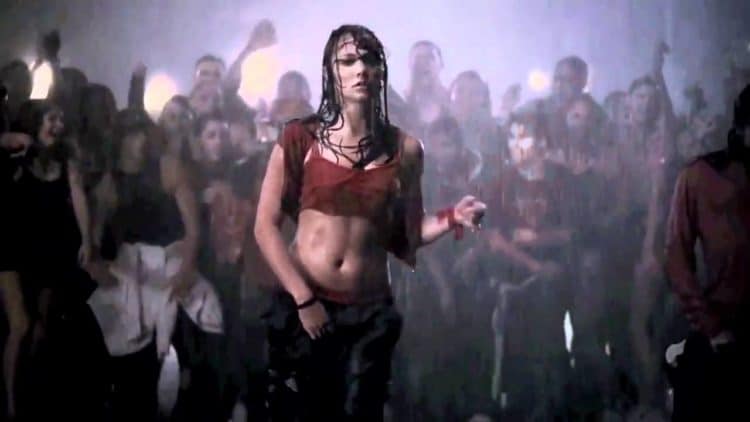 From her husky voice to amazing good looks it's a wonder that Briana Evigan isn't being featured as a bigger star than she's already been. She has enough acting talent to hold her on just about any set and she has the conditioning to be just about any character you'd want her to be. Perhaps it's just a matter of time until she's given a chance at a role that can allow her fame to grow in leaps and bounds. Or maybe she likes where she's at right now and doesn't want to advance all that quickly. Whatever's going on with her career it's enough to say that she's been great so far and that she's been very fun to watch in what she has done. While she hasn't been the huge star that it seems she might be capable of being, she's been around a few times and knows how to put herself out there.
Here are a few other things you might not know about her.
10. She went to school with the Olsen twins.
That's not to say that they're the best of friends. They might not have even known each other. But there's always that chance that since it's been mentioned that she might have known them and been on good terms with the sisters. With Hollywood relations it's always kind of hard to tell unless someone says it out loud just how people feel about one another.
9. She doesn't date dancers as a rule.
This is most likely just a personal bias that she sticks to and isn't meant to hurt feelings but is something she prefers. Plus it's been seen and heard that she enjoys teaching people how to dance since from the movies she's done she's quite good at it and definitely looks like she enjoys herself when she gets into it.
8. She's had a role in Dusk Till Dawn series.
Don't get too excited, she's not one of the vampires, but she's not just a glorified extra either. Her character is one of the tough folks that has learned how to survive doing what she does since it's a bit illegal and can get her into trouble. A lot of people were excited to see this series come out while some were thinking that as far as the Gecko brothers went their story was told. There was plenty to tell about the bar though, as has been seen in the sequels that came after.
7. She's been in a few music videos.
This is just one of them but it's probably one of the best videos and the best songs out there with her in it. Linkin Park obviously suffered a loss when their lead singer committed suicide but thankfully this song and the video are still available for viewing and listening through many different platforms.
6. She's a professional dancer.
If you haven't figured this one out by now then this should cement the thought in your mind. She's been dancing since the age of 9 so it's easy to assume that she knows just what she's doing and can teach just about anyone at this point. In fact she's been dancing longer than many people in this era have been acting.
5. She had a main role in Step Up 2: The Streets.
Where the original story belonged to Channing Tatum's character this one belongs to her. The skill that she brings to the art of dancing is something unique and very gritty in relation to that which is taught in the movie, but it's also something that many more people can relate to since it's raw, rough, and altogether primal in the way that it just unleashes upon the audience. Dancing might be considered by some to be kind of awkward and only for those that are elite enough to enjoy, but really anyone can bring themselves to get a rush out of watching those that master the movements.
4. She's been acting since 1996.
Briana has been around for a while and it's definitely safe to say that she's a veteran and has enough credits to her name to be considered a bright star in Hollywood. Why she hasn't gone any further with her career as of yet is hard to fathom but it's enough that she's reached the level she's at for now.
3. She's also a singer.
That husky voice of hers can lift into a song very quickly when she needs to and is absolutely lovely to listen to. One might think it's not entirely fair for a person to be good at acting, dancing, and singing all at once, but keep in mind that she had to work for a lot of it and put in the time and effort. Things like this don't just come to everyone.
2. She was featured in a sequel to Donnie Darko.
Ask just about anyone and they would likely look at you funny if you bothered to question about a sequel to Donnie Darko. The movie, disturbing as it was, didn't really need a sequel in the opinion of many people, but it might as well have not had one anyway since this movie just straight up bombed out.
1. She posts workout videos on YouTube.
She shows people just how they too can attain the same kind of body or at least level of fitness that she's reached. Those watching just because she's hot aren't unusual but it is kind of creepy to think about. But in all honesty the routine she goes through is pretty intense.
It'd be great to see her take on a bigger role in a movie or a show in the future.