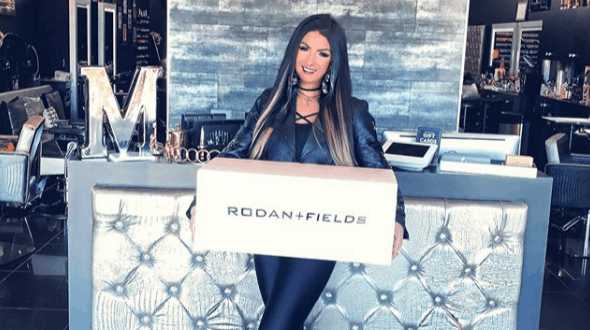 Bria Martone is a member of the Long Island Family featured on the reality television series "Unpolished." The show made its debut on November 17, 2019. Bria is the co-owner of the Long Island Salon Martone, along with her sister Lexi. The show follows the everyday activities of the family as they deliver some of the most wonderful cuts and curls on the air. To help you get to know her a little better, here are 10 things that you probably didn't know about Bria Martone.
1. Bria has an interesting nickname
Bria has been given the nickname "Bria the diva." This is because of her natural talent for delivering even the most unique requests in hairstyles. Bria doesn't turn anybody down regardless of how crazy their hairstyle request is. She does her level best to make it happen and to please the customers who come to her for their hairstyling needs.
2. She calls her room the "diva boutique"
Bria has her room in the salon. This is where she makes the magic happen. Her sister Lexi adds that Bria "was born covered in sparkles." Her mother adds that she prayed over Bria when she was a baby and asked that she turn out to be beautiful.
3. Bria is a sassy lady
If you haven't yet tuned into the series "Unpolished" then you're in for a real treat when you do. It's an entertaining show but the stars are not acting. Bria and her sister are both very sassy ladies. The dialogue that they share sometimes goes over the top. It's at times quite entertaining, and things do get a bit intense, but in the end, these two have one another's backs.
4. She comes from an Italian Long Island family
Bria Martone was born into a very unique family. They're of Italian ancestry and the women are all outspoken Long Islanders. Each of the ladies has a strong personality and Bria is no exception. So far, she has done a great job representing the family and the business in the series. She will appear in six episodes which are scheduled so far. If the show gets high enough ratings then it might be back for even more episodes for the next season.
5. Her sister doesn't like her boyfriend
Bria has a boyfriend with whom she is on again and off again. Her sister Lexi cannot stand him. He is 28 years old and the two have had a rocky relationship. While ).they were broken up, Matt was seeing another woman with whom he has twins and this makes her sister angry because she believes that he is cocky and a "player." This helps to make the show interesting and it also adds to the drama as Lexi speaks her mind freely about her dislike for Bria's s sometimes boyfriend.
6. Differences in opinion don't keep her apart from her sister
You'll soon discover that Bria and her sister Lexi don't agree on some things. Although her choice in men is something that creates quite a stir on the television series, it's not something that comes between the sisters. They show us all that blood is thicker than water and even though they don't agree on some things when the chips are down, they are sisters and family comes first to both Bria and Lexi.
7. Bria is also a makeup artist
The two things that Bria excels in doing are hair coloring and makeup. She talks about her work on her Facebook account and invites the public to come and watch her, Lexi and their mother as they transform the appearance of their clientele in some unusual ways. Some of their customers just want traditional makeup and hair colors but many of them come to her for an unusual look and Bria is always willing to accommodate their requests regardless of how off the beaten path they happen to be.
8. She recently moved in her with fiancee
We also learned from Bria's social media posts that she and Matt have recently moved in together. They are planning to get married and this is something that the show is going to follow. Even though their relationship has been rocky as much as it has been solid, they're going to make it legal and official, or so they say. Will it work out for Bria and Matt? You'll just have to tune in for the series of 6 episodes for this season to find out.
9. She has an Instagram account
If you've caught the first episode of "Unpolished and you're already a fan of Brie Martone, then you'll be thrilled to learn that she also has an Instagram account. She does an amazing job of keeping the posts coming so fans can get a good look at the kind of work that she does at the salon. So far she has made a total of 220 posts so you can find some great photos of Bria as well as of the work that she does. She has 2,593 followers on the site so far.
10. You can call to make an appointment to see Bria
Bria is advertising for new clients who are welcome to call and book an appointment. Although there is no guarantee that you will ever make it on the cameras for their television series, you can check out her amazing skills as a hair colorist and makeup artist. Even though Bria Martone is involved in a reality television series, she and her sister own a legitimate business that serves real customers. They're not just doing it for the sake of the show, it's a real thing and she's there to serve real clients, not actors.
Tell us what's wrong with this post? How could we improve it? :)
Let us improve this post!