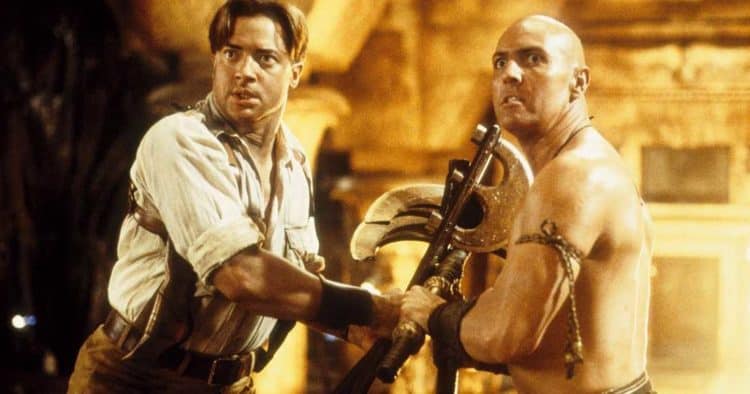 Actor Brendan Fraser has starred in a number of memorable roles from films such as Encino Man, School Ties, Journey to the Center of the Earth, and Crash. Not only has he starred in movies and television series, he's also done voice acting work on shows such as King of the Hill and The Simpsons. Although he left the spotlight for a number of years, Fraser is returning to TV for a recurring role on the Showtime hit The Affair.
As it's the theme of the show, there's no doubt that he'll either play someone involved in an extramarital affair or a character that's important in the life of someone who's in the midst of an extramarital scandal. Not much has been revealed about the role, but if Fraser's past performances on TV and the big screen are any indication, he'll do the part justice. Interested in finding out more about the long time actor? Here are ten things you didn't know about Brendan Fraser.
1. He has French Canadian roots.
Though he was born on December 3, 1968 in Indianapolis, Indiana, Brendan Fraser's parents are from Canada. His mother, Carol, worked in sales, while his father, Peter, was a journalist who worked for Canada's Government Office of Tourism as a foreign service officer. In his lineage Brendan also has German, Czech, Scottish, and Irish heritage.
2. Brendan Fraser has a sports legend in his family.
Not many can say that their uncle won an Olympic gold medal, but Brendan Fraser can. His uncle on his mother's side, George Genereux, was the only Canadian competitor to come home with a gold medal from the 1952 Summer Olympics. At the time, Genereux was the youngest Olympic champion from Canada, and he held that distinction until the 2016 Summer Olympics.
3. People pronounce his last name incorrectly — a lot.
Ever since he got into show business, people have been pronouncing his last name the wrong way. In the 2003 movie Dickie Roberts: Former Child Star, a side debate over how to say "Brendan Fraser" correctly was an ongoing joke. Interestingly enough, Fraser actually makes a cameo in the film.
4. Brendan Fraser is a world traveler.
It's not unusual for wealthy celebs to travel all over the world, but Brendan Fraser did it during his childhood through no choice of his own. Because of his father's job, he and his family had to move around the world. Some of the places that he's lived include Switzerland, the Netherlands, California, and Seattle. In 1990, Fraser graduated from the latter's Cornish College of the Arts. He was going to get his graduate degree in Texas, but on his way he stopped over in LA and chose to stay there to work in the film industry.
5. He played a role on America's Most Wanted.
A break is a break in the entertainment world, and one of Brendan Fraser's first roles was on the show America's Most Wanted. No, he didn't commit any crimes. However, he played the friend of a murder victim during a reenactment on the program. While that was the first time he appeared on television, the 1992 movie Encino Man was his first film role.
6. Not long ago, he was a major movie star.
Fraser had a string of successful appearances in major Hollywood movies during the 1990s and early 2000s, along with a few memorable flops. However, he's best known by many as the star of the Mummy trilogy of films: The Mummy (1999), The Mummy Returns (2001), and The Mummy: Tomb of the Dragon Emperor (2008). In it he played the role of Rick O'Connell, an adventurer who had formerly served in the French Foreign Legion.
7. There used to be rumors about why Hollywood wanted nothing to do with him.
Some A-list actors fall out of favor due to scandal or falling victim to their own vices, but that's not the case for Brendan Fraser. He wasn't involved in any illicit affairs and wasn't hard to work with, there was simply an abundance of younger actors able to step into the action roles that Fraser once filled when he started to age. While he used to play very athletic roles, once he slid into middle age and lost some of his physique and his hair Hollywood stopped calling as much.
At that point, he started appearing in various forgettable family films and shows in the dad role. Thankfully he's back on the screen and breaking away from the kids' movies, because he really is a talented actor.
8. He met his ex-wife at a party at Winona Ryder's house.
From 1998 to 2007, Brendan Fraser was married to actress Afton Smith. They met in 1993 at a summer backyard barbecue at the home of mutual friend Winona Ryder, and the two started dating not long after. While they were married, they lived in Beverly Hills and had three kids: Griffin, Holden, and Leland. The couple divorced and have since been mostly amicable, save for a spat over alimony and child support payments in 2013.
9. Fraser isn't just a veteran in movies and TV, he's been in several stage productions.
It's not easy for all actors to transfer their acting talent from the screen to the stage — it really does take a different set of skills. However, due to Brendan Fraser's acting training he was able to pull it off. He starred as Brick in the West End production of Cat on a Hot Tin Roof in 2001, receiving critical acclaim. In 2010 he appeared in the Broadway production of Elling.
10. He's a super talented photographer.
Somewhere along the way in life, Brendan Fraser developed a serious knack for photography. When he was inducted into Canada's Walk of Fame in 2006, mention was made of his accomplishments in the field of amateur photography and creative imagery. It's fitting that during his many roles on television the actor has been seen holding cameras.
In a particularly memorably instance during his guest stint on the TV show Scrubs, Fraser was seen toting Polaroid cameras. There was even a book released about photography that was dedicated to Brendan Fraser, Collector's Guide to Instant Cameras.
Tell us what's wrong with this post? How could we improve it? :)
Let us improve this post!