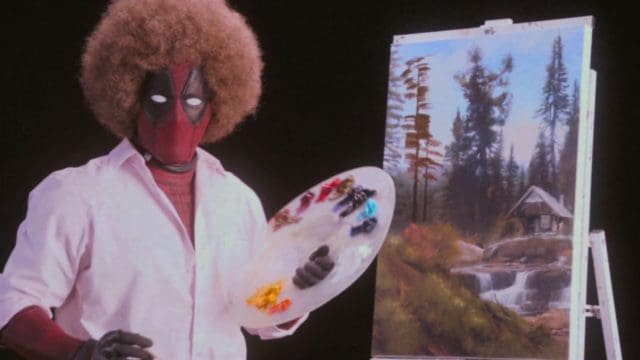 Deadpool is a franchise that loves its references, so it should come as no surprise to learn that the "Wet on Wet" teaser is a clear reference to Bob Ross of PBS fame. For those who are unfamiliar with that name, Ross was an American art instructor who had his own instructional TV show called The Joy of Painting on PBS, which started up in 1983 and continued filming until 1994 when he was diagnosed with the blood cancer that killed him. Regardless, the sheer longevity of his instructional TV show should make it obvious that he was a much-beloved figure, so much so that he has made a surprising number of appearances in recent media. One example is how more than 5 million viewers headed over to Twitch.tv to watch a marathon of The Joy of Painting that started up on October 29 of 2015 for the purpose of honoring what would have been Ross's 73rd birthday.
As for why the "Wet on Wet" teaser is a clear reference to Bob Ross, well suffice to say that the man was recognizable by a couple of stand-out characteristics. One was his permed afro, while the other was his soft-spoken nature. Since Deadpool is wearing a wig in the shape of an afro, speaking in a softer than normal tone for him, and acting as though he is teaching other people to paint, the connection between the clever piece of marketing and its source of inspiration is an obvious one. Of course, the parody possesses the Deadpool franchise's usual charm, thus making it that much better.
With that said, the "Wet on Wet" teaser managed to sneak in some footage of the upcoming movie as well. Said footage was short in length, but that is perhaps unsurprising when teasers are meant to make people interested in seeing what comes out of the production next. Regardless, examples of the footage ranged from Negasonic Teenage Warhead making a return to the franchise with her characteristic attitude as well as a new hairstyle to a mutant mercenary named Domino who has been a love interest of Deadpool from time to time in the comic books.
However, the one piece of footage that caught the attention of the most viewers was probably that of what looked like a mechanical hand on top of a table filled with weapons of various sorts, which is one of the earliest looks at the character called Cable in Deadpool 2. As for who Cable is supposed to be, well, suffice to say that he is the time-traveling psychic son of Cyclops who happened to catch a techno-organic virus at some point, which is every bit as messy as it sounds.
What Else Do We Know about Deadpool 2?
Those who are interested in learning more about Deadpool 2 should check out some of the other marketing material that has been released. One example is the teaser poster with Deadpool and Cable standing at the head of the table for what looks like a Thanksgiving get-together featuring both old and new characters for the franchise. As the movie continues to approach its expected release date of June 1 of 2018, more marketing materials are sure to come out, which are sure to provide interested individuals with all of the information that they could ever want.