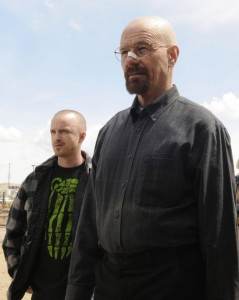 Okay so we can now talk a little more openly about Breaking Bad, you and I. 'Live Free or Die'Begins Walter White's trip towards wherever his rabbit hole leads, and we know he'll be packing. Geek Out Moment: I'm a huge Supernatural fan and was pleasantly surprised to see Jim Beaver's Lawson show up. Beaver has made it into all three of my favorite shows: Breaking Bad, Justified, and, of course, Supernatural. I'm starting to think of him as some kind of fuzzy-faced TV tempter. But, I digress. Let's cover 'Live Free or Die'and talk about what went down.
Walt, where you going with that gun?
In the opening scene we see future Walt showing up at a Denny's and meeting Lawson, who we first met in 'Thirty-Eight Snub'. Just as in that episode, Walt is mingling with Lawson for the purpose of buying a gun. Unlike that episode, Walt is buying a big gun. A massive gun, in fact. Is this scene setting up the end of the first half of the last season of Breaking Bad, or the whole show? I'm guessing the whole show. Judging from Walt's New Hampshire driver's license, assumed name, and radically different appearance (hair on the head and face), it looks like Walt has been in hiding. Is his family still with him? Where is Jessie? What is the gun for? We get nothing. Walt gives a hundred dollar tip to his waitress, which suggests he is either still loaded or just making one last kind act. There are subtle hints that his cancer is back. A familiar cough, popping of pills. The entire setup is apocalyptic in tone. Whether Walt is emerging from the total darkness of his ultimate '˜break'bad, or making an attempt to blast his way free of the Heisenberg legacy, or something even more unexpected,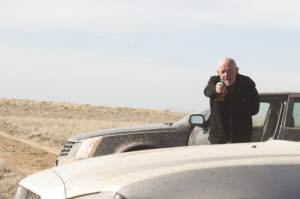 we have no clue.
Magnets?
The primary arc of the episode deals with Gus's laptop, which contains footage from the lab. For all of his careful thinking, Walt never thought to track the lab security cameras to their source and destroy the evidence. This makes a logical segue to bring Mike back into the plot, since as head of security he would know exactly where those files were stored. Mike at first wants Walt's head for killing Gus, but his debt to Jessie overpowers his loyalty to his old boss and he agrees to work with them to try to come up with a solution. Since breaking into a police station evidence room isn't going to work, the trio come up with a scientific solution: magnets. It's actually Jessie's inspiration, but as ludicrous as it might seem at first, Walt's scientific mind soon begins to grasp the possibilities. A trip to the junk-yard later, and the trio have a crane magnet with enough power to mangle anything in the room. Definitely one of Breaking Bad's most far flung moments, but I loved it.
Hanks Redemption = Walt's Demise?
Eliminating Gus did little to get Walt off the hook. The killing quickly puts Fring's illicit operation under the microscope, and the information that begins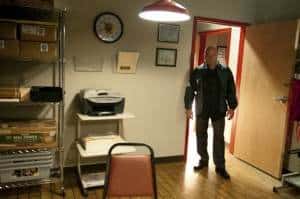 to surface quickly vindicates Hank–whose theories on Gus were ignored, nay ridiculed, by the DEA. If anything, the killing of Gus has stirred up even more interest. Fring was the king-pin, there is no doubt, but who is the person that brought him down using one of his most bitter rivals? Hank is determined to find out, and even though Walt, Mike, and Jessie's 'magnet solution' destroyed one piece of evidence, it revealed another: a list of 'something'–I see the word 'Cayman', so I'm guessing offshore bank accounts–hidden behind a photograph.
The Ted Problem
So we learned that Ted survived, and so did Skylar who really had no idea anything had even happened to him to begin with. Learning of his injuries, Skylar bolts to the hospital with a sense of guilt to check in on her old flame/boss and is shocked to find him shaved bald and sporting an elaborate neck brace. Skylar tries to comfort Ted, but before she can show her intentions he begins basically begging for his life; assuring her that he fears for his children's lives, and hasn't said a thing to anyone. Now Skylar knows what it is like to be feared, it is her response to this that is interesting. In the final moment of the episode Walt '˜forgives'her, presumably for her adultery and the cash she gave Ted, but it is clear that she does not forgive herself for what it all ultimately lead to. The harm inflicted on Ted; this new perception of her that exists in the Universe, as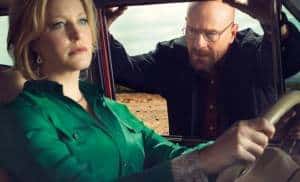 someone to be feared, as a result of it–something that Walt embraces in himself, but Skylar is visibly conflicted over.
This is definitely a moment that will expand throughout the season. One of Breaking Bad's undeniable strengths is the realism of each characters inner journey as they immerse in the process of '˜Breaking Bad', and Anna Gunn's extraordinarily nuanced–and exceedingly Emmy worth–approach to portraying this inner conflict by allowing it percolate through her expressions, movements, hesitations, and the subtle canvas of her voice, is extraordinary. We know from her coin toss last season that she is at a cross roads, but only she, and the Breaking Bad brain-trust know what she has in mind for possible destinations.
Business as Usual?
'Live Free or Die'was definitely about unwinding the tension left over from the season four finale. It would have been plain wrong for any characters to say 'so what's next'after that. The episode also did not ignore its duty to setup the new overarching story as well. Certainly, the events of the episode mean different things to different characters. For Walt and Jesse, it is a Tabula Rasa of sorts. For Mike, it is the end of a career. For Skylar, it is a realization that her careful steps into the arena of Walt's ever darkening morality have led her within the grasp of a terrible and inescapable gravity. For Hank, it is redemption, and renewed resolve. Hank now has the opportunity to bask in the spotlight once again as a hero, and he's anxious to prove that he has only just begun to open Gus Fring's box of secrets.
Join us next week to discuss Episode 2 of Breaking Bad season 5, and Facebookers don't forget to join us on our Breaking Bad fan page for exclusive pictures, photos, news updates, and discussion.