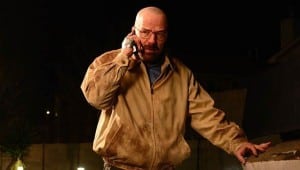 Just when you think Breaking Bad cannot get any more intense after last week's cliffhanger shootout, it comes back this week with perhaps the series' greatest episode of all time. "Ozymandias" is a horrifying episode, filled with death, destruction, and tragedy. At many points throughout the hour, it's hard to watch; however, the Breaking Bad team did such a marvelous job crafting this episode into a masterpiece that even when Jesse was seconds away from death or Skyler and Walt began wrestling on the floor in their home, the large kitchen knife somehow miraculously missing both of them, I couldn't look away. Each and every moment of "Ozymandias" was so perfectly sewn together, and now, hours later, I'm still in awe of what Vince Gilligan and the Breaking Bad writers were able to create.
Instead of immediately throwing us straight back into the craziness of last week's firefight, this week's episode of Breaking Bad actually opens up with a flashback to Jesse and Walt's first cook, their RV parked in the same desert where Todd's Uncle Jack and his squad are now gunning down Hank and Gomez.
While waiting for the meth to finish cooking, Walt walks out from the RV to call Skyler, concocting a lie about how his boss at the car wash needs him to stay late, practicing exactly what words and phrases he will say to Skyler before he makes the call. It's the first of two important phone calls between these characters in "Ozymandias," and it reminds us again of how hopeful, simple, and innocent the White family was at the beginning of the show. Walt was just a downtrodden chemistry teacher, hoping to leave something, anything, behind for his family, while Skyler was the excited mother-to-be, discussing girl names with her husband over the phone and trying to decide where best to get pizza from for dinner. By framing the tragic events of the present with this flashback, Breaking Bad ensures that the maximum effect of sorrow and heartaches is not only felt by its characters but also by its audience.
Seeing how easy and simple things were for Walt and his family before he became Heisenberg only adds salt to fresh wounds as every part of Walt's family falls apart tonight. Hank is executed by Jack right in front of Walt; Walt Jr. discovers the truth about his father's meth cooking business; and Skyler, after finding out about Hank's death, grabs a knife and forces Walt to leave, however, not before Walt Jr. calls the police and Walt flees with Holly in his arms. Thankfully, Walt somewhat comes to his senses by episode's end and leaves Holly behind at a firehouse so that she can be brought back and reunited with her mother, but this action does not take away from the sheer horror that filled that entire sequence, from Skyler's questioning of "Where's Hank?" to Walt Jr.'s bravery at standing up to his father and protecting his family to, finally, Walt's desperate cry of "We're a family!" as they all stare at him from the ground, stunned to silence, emotionally and physically scarred, terrified of the monster that he has become.
Near the end of tonight's Breaking Bad, Walt makes another phone call to Skyler, this one a polar opposite from the call he made in the opening flashback. He's cold, hateful, and cruel, and there is no sense of any love or compassion from the great Heisenberg as he curses at his wife and threatens her life. But as you watch Walt's strained expression and the tears that he sheds after he hangs up with Skyler, you realize that there is one similarity between the first and final phone calls: Walt was lying in both of them; he was acting. He was putting on a performance to protect his family, the group of people that he first started cooking meth for to begin with in order to leave them with money after he died. The same people that his ever-growing lust and greed have shattered, irrevocably destroying any possibility for hope, only leaving despair, confusion, and hatred to fill that empty void that Walt has created, an endless wound that no amount of money could ever heal.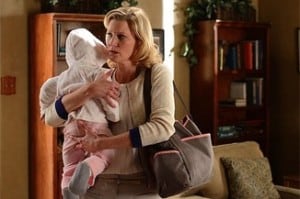 Other thoughts:
– I haven't really mentioned Jesse yet, and maybe that's because he's my favorite character and I'm terrified of what's going to happen to him. Fortunately, his life was spared in tonight's episode, but being Todd's prisoner, beaten and tortured into teaching Todd how to cook the best possible meth, does not bode well for Jesse. I only hope that he can find a way to escape next week and still make it out of the series damaged but alive.
– Walt's silent nod to Jack, giving him the order to execute Jesse before Todd stepped in to stop it, was chilling, and then there was Walt's confession that we all knew had to come at some point: "I watched Jane die. I was there. And I watched her die. I watched her overdose and choke to death. I could have saved her. But I didn't," a verbal spit in the face to Jesse as repayment for his betrayal last week. That entire sequence was tense, gripping, and heartbreaking. Breaking Bad showing why it is TV at its best.
– What an amazing final performance from Dean Norris in tonight's episode. I knew Hank had to be a goner after last week's cliffhanger, but the way he went out, just like the strong, honorable cowboy that he was and always wanted to be, was the perfect sendoff for the character. Norris nailed every expression and every line, especially his final words to Walt, letting him know that he already knew he was a goner: "You want me to beg? You're the smartest guy I ever met, and you're too stupid to see–he made up his mind ten minutes ago." R.I.P. Hank. I'll miss you.
– Only two episodes remain in Breaking Bad's run. With Walt now gone, with both his money and presumably with a new identity thanks to Saul's guy, how do you think he will get dragged back into Albuquerque and who does he need to "deal with"? My money is still on Todd and his uncle's gang, especially after tonight's episode. I really hope there is some type of justice for Hank and Gomez's murders and for the awful torture that they are putting Jesse through. Then again, this is Breaking Bad, so I probably shouldn't get my hopes up for any justice being served.
What did everyone think about tonight's Breaking Bad? Do you agree me with that it was the series' best episode ever, or do you have a different pick? Sound off in the comments below.