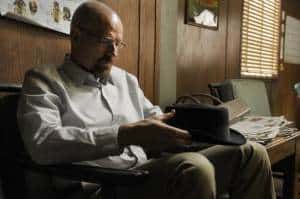 Walter White has officially gone to the dark side. For four seasons we have watched Walt gradually become drunk with power and greed as his life circumstances, increasingly of his own doing, drove him to darker and darker depths, but with Breaking Bad "51" that airs tonight on AMC we find that Walt's transformation has officially gone past the tipping point, with devastating implications for all involved.
Taking place mostly on Walt's birthday, "51" deals squarely with family matters. We know that Walt is very attached to his children, but there has been an obvious detachment on Skylar's behalf that has been difficult to read. I'd go as far as to say that what is going through Skylar's head is one of the bigger mysteries of this season of Breaking Bad, and tonight you will get an answer that is a real game changer not only in what it means for her position on the current 'situation', but for how Walter responds to it.
There is some 'B' plot concerning Lydia that is compelling on its own, but the part of it that really blew me away is how it begins to rhyme with the Skylar and Walt 'A' story, and the implications it could hold for the future of Breaking Bad.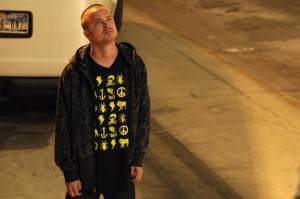 It suggests a course that is unexpected to say the least, and shocking to say only a bit more. If it turns out I was reading it correctly, I'm throwing away any theory I have on the direction of season 5 and just strapping in for the ride.
"51" is one of those episodes that takes a step back from the high-concept trappings of Breaking Bad and proves how good the writing on this show can be on a purely character driven drama level. There are well nuanced elements that loop us back into earlier points in the story, giving time to reflect on how things have changes, and there are sudden almost jarring advancements on lingering character issues that seem to move things forward with a sort of emotional adrenaline shot. It's a great example of the fact that Breaking Bad's writers room doesn't need underground super labs, menacing thugs, and stacks of cash to keep you involved. They are amazing story tellers who aren't afraid to point out that they are more aware of their timeline than we are.