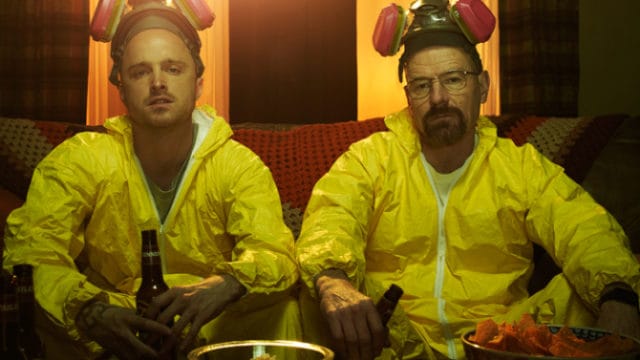 Well this puts a new spin on Breaking Bad. The Nanny theme gives it an almost innocent feel that makes you think that maybe it wasn't such a bad thing that Walt started up the idea of cooking meth and bringing Jesse in as a partner. Strange how cartoons can do that to a show, especially considering how brutal this program really was. How many of you have watched the thing all the way through? I think I got up to the part when they took out the big boss and then I kind of lost interest. At that point though I'd seen enough of the show I believe to have decided that they were playing for time and not so much interest.
That seems to be the MO of a lot of shows at this point since to be quite honest most of them are more interested in seeing how long they can run rather than staying true to the formula that got them this far and netted them this many fans. Eventually the formula does have to change, but until then it's best to stick with it as long as it works. Breaking Bad was something new and exciting and wasn't to be messed with for the first few seasons. The show was a definite switch for Bryan Cranston, who was best known for his role on Malcolm in the Middle at that point. This show saw him take his acting talents to a new level that few people realized he'd possessed.
And more than that, the dynamic between Jesse and Walt was something that seemed absolutely volatile at the best of times and almost homicidal at the worst. The show became increasingly disturbing after the first episode, and that's saying something since the way in which it started was like a whirlwind. Breaking Bad started as something odd and faintly disturbing and became a show that was distinctly awesome and jaw-dropping. Fans saw a middle-aged schoolteacher go from being a mild-mannered husband and father to a murderous, drug-making psychopath that could no longer separate the two in his own mind. Walt became the monster that we all thought Jesse might have been at one point, doing things that normally a character like his would never contemplate.
Personally the show was a hit for me until they brought in Bob Odenkirk. I happen to think he's a decent actor but Saul was kind of too campy for my liking. I know I'd face some serious blowback from that statement if I ever said it to a diehard fan, but that's the honest truth. Once Saul was involved my interest really started to wane because he was too much for the series and not quite THERE enough for the story. To better explain that it was almost as if they put Elmer Fudd into the middle of Pulp Fiction. That's the analogy I'm sticking with the for the moment since it makes the most sense in my own head.