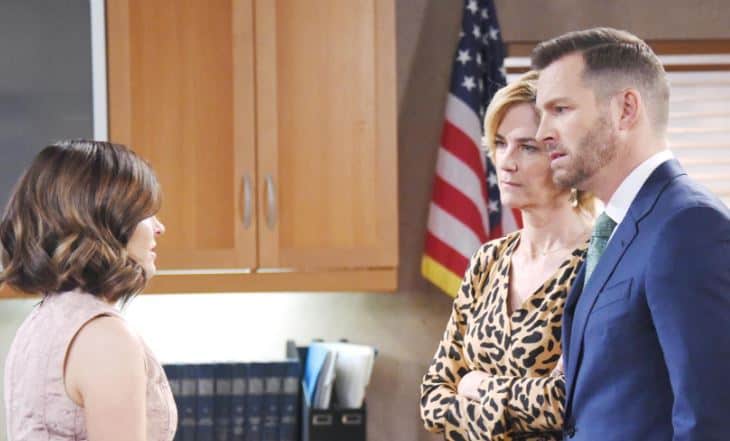 Days of Our Lives fans have watched some very tragic moments unfold this week. So many people have been in a bad place, and so many people have to figure out how they are going to move on with their lives. Nothing that's happening right now is good news for anyone, but it's always going to be a situation we can't control. We watched with a definite heavy heart as JJ visited Lani. She lost her baby with Eli. This is the same baby that she let JJ think was his own baby, and she's in a bad place. She's mourning right now, and it shows us that she did the right thing by not allowing JJ to go through this alone. He would also be mourning the loss of a child he never had if she'd allowed him to continue thinking she didn't sleep with Eli. He visited her, and we feel he did the right thing.
We also thought it was interesting to see Eve take things into her own hands, and we are certainly glad she did. Someone had to. She was not in a good place with anyone in the moment, and she had to do something to get her life back on track. She is taking control, and we liked seeing that. We also saw that there was a moment when Ciara realized, finally, that Ben is not someone who she needs to allow herself to become too close to. He has no medication, and that does horrible things to him. He's a man with some serious mental health issues, and she needs to see that for herself. She's still young, and she still thinks she can change the world by just believing it's a better place. She has no idea that something this serious is really this serious. She's starting to see, though.
What's Happening on Days of Our Lives
Never underestimate the power of a mother! #DAYS https://t.co/3pjXNUynvx

— Days of our Lives (@nbcdays) July 5, 2018
Moms are so underrated by so many people, but we are happy to see fans and the show itself are showing their appreciation for moms. We know that Theresa might be over the top with her own mom issues right now, but we can totally see how Hope is getting her mom on doing all she can to find out what happened to her daughter. She's not resting until she finds her, saves her, and brings her home to safety. She's in danger, and we all know it.
What's Next on Days of Our Lives
This week on #DAYS: Sometimes it's best to sweep a big problem under the rug… Watch Days of our Lives, weekdays on @NBC. https://t.co/fDQMXAzAgQ

— Days of our Lives (@nbcdays) July 2, 2018
Hope and Rafe have to handle things as they see fit, and that means finding Clyde and asking him where to find Ben. Hope knows if she can find Ben, she can find her daughter. She also knows her daughter is in major danger with this young man, and she is not willing to take any chances or do anything that she feels might hurt her chances of being able to get her life together. She's got a big situation to deal with, and we aren't sure she can handle this without some further issue. She's going to have to get this together soon, and she has to find out if Clyde is the answer to what she needs to know. Is he? She and Rafe will certainly find out.
Now that Brady is in the middle of a custody battle for Tate, he's going to find he has some bigger problems in other areas of his life as well. He's going to find out that there is a lot he has to do regarding Deimos. It turns out he's going to find out that Theresa is willing to do anything. She's so willing to do anything to make him pay for choosing Eve that she is going to imply that he is the reason that Deimos is dead. With a murder charge pending, he might not get to be the choice the judge makes for Tate. It's sneaky, underhanded, and it's awful. But will the accusation stick and work?
Stay tuned for more Days of Our Lives and be sure to check out TVOvermind daily for the latest Days of Our Lives spoilers, news, and updates.