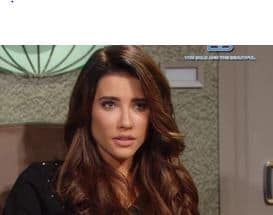 The Bold and the Beautiful fans aren't surprised that Steffy is unhappy that Liam and Sally are going to spend some time in San Francisco together for their work trip, and she's not about to let him go on this trip without spending some time telling him she's not happy about it. Of course, Liam doesn't hear a word his wife is saying to him, accusing her of being ridiculous, and telling her in no uncertain terms she's going whether she likes it or not. It's not a good situation, but it's a classic one. Steffy could, of course, demand to go along with and do just that.
This is just another story line in which they are not seeing eye to eye, he's doing something she doesn't appreciate, and things aren't going her way. It's something she can't help, but he won't change. They could just agree to put their marriage first, but they won't. She's right he's spending too much time with another woman, and he's wrong to tell her she's not even sure what she's talking about.
It's classic for this show, and we're watching as their marriage unfolds. He'll end up with Sally, they'll end up broken up before much longer, Steffy will end up back with Liam in the future after some horrible affairs go on, and things will go back to normal, but not until they've both literally slept with every single person they know. It's the same story, again, and fans want more.