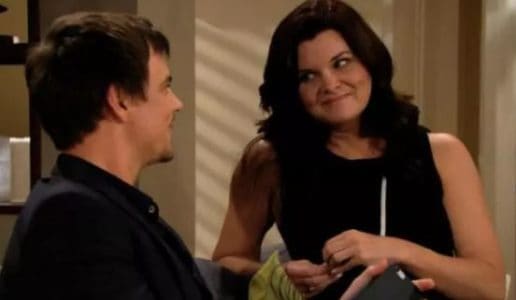 The Bold and the Beautiful spoilers tell us things are not going to end well for Wyatt and Katie. Now that their secret is out and people are learning more about what it is that's going on with them, they're having some difficulties figuring out how to handle their situation. Things aren't good when his father finds out. He's already in a place where he is issuing punishment after punishment to his other son, and Wyatt is terrified of what his father might do to him if he finds out that his son is in the middle of an affair with his own ex.
The problem we see is that Katie doesn't seem to care. She didn't exactly come clean as far as talking to her sister, but she doesn't seem all that excited about the idea of her sister finding out. Bill, on the other hand, is not someone she cares much about. He was married to Katie, cheated on her with her sister, and she forgave her sister.
She did not forgive her husband, however. She's not a fan of his and she's not interested in what he has to say at this point. She's no longer in the place where his feelings and opinions matter to her at all. But she does have to worry about Wyatt. If he's this upset, he might just end things. She likes him, and she really hopes he doesn't feel that way when his father finds out about his affair.