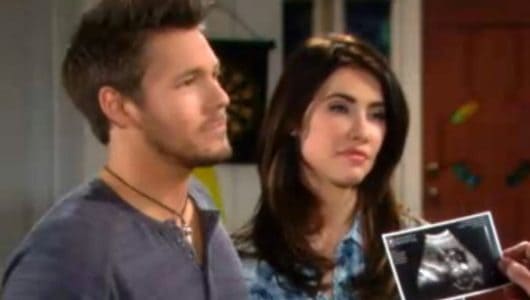 The Bold and the Beautiful fans are going to see the big news today. It's the day that Steffy and Liam learn the gender of the baby they are going to have in a few months. They will find out if they are having a baby girl or a baby boy, and they could not be more excited. Steffy is more than a little excited that her husband is there to see this appointment with her, to be with her as they find out what they are having. She owes it all to Hope, too. Hope is the one who asked Liam to go to this appointment — he wasn't going to.
We think that's a little selfish and inappropriate, to be honest. It doesn't matter how he feels about his wife at this point, he should still be there for his baby and to find out what is going on in this pregnancy. Thankfully, Hope made him go to this appointment, and that's good news. She did a good thing, and Steffy is grateful to her.
And we hear there is going to be a moment between Steffy and Liam while they are the doctor. There is something so magical about seeing your unborn baby for the very first time. Something so magical about seeing a baby and knowing that your baby is healthy and doing well and progressing as expected is just all there is to it. And that's all they need right now. It's a small moment, and it's a good moment.