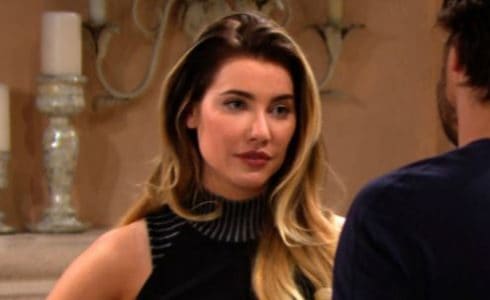 The Bold and the Beautiful spoilers indicate Steffy is in a rage. She's not happy at all at the moment, and she's not happy with her husband or her brother. They've both done something awful. They've gone against her in an effort to help the woman she seems to currently hate more than any other woman in the world; Sally Spectra. Her own husband, Liam, went behind her back to investigate what his father, Bill, did to Sally. He had their reviews tampered with and lied about so they didn't get good ones, and he had them blackballed from the fashion community as a result. This led Sally to take desperate measures to find some help for her business.
This led Thomas to defy his own parents and his own sister and hand over the money to keep her business going to Sally. Now Steffy is furious. In her mind, her brother and her husband should have their loyalty in her pocket, and not in Sally's. There is nothing they can do at this point, and they would really like to get her to back off of them and Sally, but she's declared war on Sally. Little does Steffy know, she's doing little more than really just putting the men in her life against her in the long run. They see her as she is; mean and spiteful.
Will her actions against Sally for no particular reason other than her personal distrust cause her own relationships to fall apart? She and her husband are not happy with one another right now as a result, and she's not even speaking to her brother right now. If she continues down this road, will it result in her family and the men in her life seeing her for what she is, which is a horrible person who only wants to look out for herself? She cannot even give Sally a chance to redeem herself with the two men most important to her both see something in her that's not so bad.