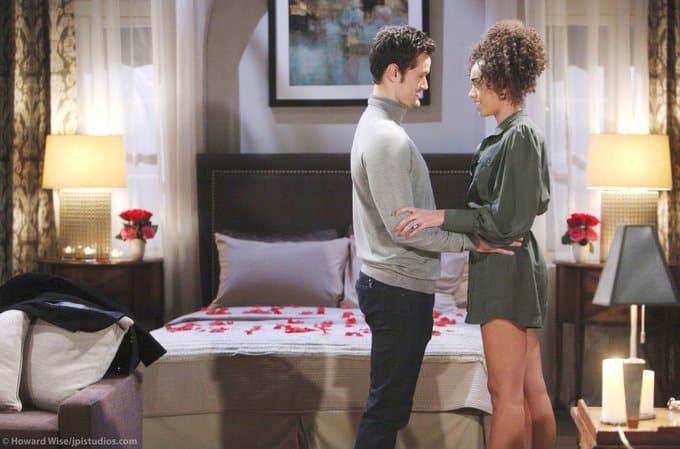 Bold and the Beautiful fans were not at all shocked to see Hope do what she does best. We knew she would find a way to ruin things for Thomas and for Zoe. She knew that they were in the middle of enjoying a sweet moment with one another when she made the decision to go in there an interrupt them to the best of her ability, yet she did it anyway. She's not someone who makes entirely good decisions, but she is someone who can make life a little more complicated when she wants to do that. She knows that he is going to marry her, but she's not sure that she can handle that with all that is going on with his son. Douglas begged Hope to marry his dad instead of allowing him to marry the woman that he is going to marry, and she cannot handle that.
Then there is nothing more surprising than the deal that Brooke just made with Ridge. She's going to do something that is not really her style, and we are sure that this cannot be real. She is not that kind of woman, and we all know it. She's got a lot on her mind and in her life that is not okay with anyone else, but she's not the kind of woman who will do anything she's not going to gain something from in return. She's not going to get anything in her life that is good if she doesn't forgive Thomas. And that's all there is to it. She's decided to forgive and forget, and that's not something we think is entirely honest and happy. She's a mess, and we all know that she's not that kind of girl. But, this is happening right now.
What's Happening on Bold and the Beautiful
SNEAK PEEK at #BoldandBeautiful Next Week: Hope comforts Douglas. Not realizing that Wyatt knows her secret, Sally tells Wyatt that she still loves him. Flo's compassionate heart is revealed during a conversation with Wyatt. Katie continues to advocate on Sally's behalf. pic.twitter.com/b8DHdo1nC1

— Bold & The Beautiful (@BandB_CBS) February 21, 2020
There is a lot of heartbreak around here right now.
What's Next on Bold and the Beautiful
🎉Please help us wish @lesliecharleson a very #HappyBirthday! 🎊#GH pic.twitter.com/WfHN9XBrqj

— General Hospital (@GeneralHospital) February 22, 2020
Sally is going to die, and there is nothing that Wyatt can do about it. She's not going to live now that she has been diagnosed with this terminal illness, and his guilt has racked him with more than he can handle. She's not looking for help or for anything else from anyone right now, but she's especially not looking for it from him. She's not happy with him in the least, and she is not going to allow anyone to stop her from what she is doing. However, he cannot stop thinking about her and what is going on in her life and how he only added to this by ending things with her. He's crushed and unhappy, and there is nothing that they can do about it right now.
He and Flo are figuring things out, and part of that is to try and help Sally. They want to be there for her and they want to find something that will help her out, but can they make this work? Can they find a way to help her in the midst of all this? Katie is going to do all she can to make sure that Sally does not lose her job, either. She is trying so hard to make it clear to them that she has to keep her job and that they cannot give up on her because of this, and we think this means she will also share the problems that she's having with them, too. Another secret not kept from her.
Stay tuned for more The Bold and the Beautiful and be sure to check out TVOvermind daily for the latest The Bold and the Beautiful spoilers, news, and updates.