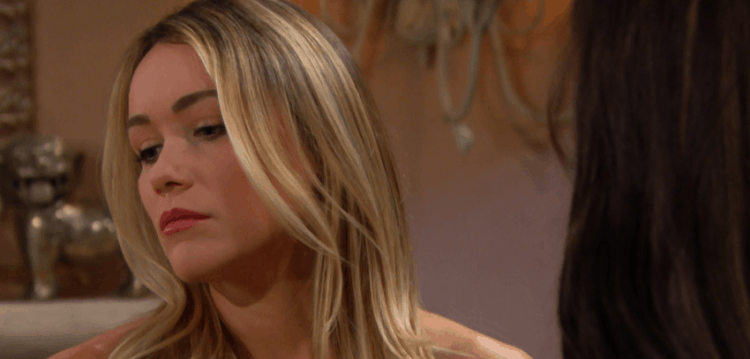 The Bold and the Beautiful fans are just sitting here wondering how this week will go. We are beginning to feel that we say the same thing week after week in terms of what is going on with Flo. She's still upset. She's still going back and forth about what to do, how to do it, and what should happen. She's still in the middle of some big issues in her own life, and she's not going to have much luck at the moment. Her mother is, once again, asking her to keep this a secret. Zoe is still asking her to keep this a secret. They don't want Hope and Liam and Steffy and anyone else to find out the truth about the baby, and all for their own selfish reasons. Zoe doesn't want to see her dad in trouble. Shauna doesn't want her daughter to upset her new, wealthy, family, and she doesn't want anyone else to know that her daughter is a liar and a fraud. She likes her new life.
And then there is Katie, who asked Shauna to do this thing for her, and we think that she definitely wants to be with Bill herself. This might not be something she actively pursues at the moment, but she did have fun seducing him, and we have to guess that she will not be able to hold off much longer. Hope and Thomas are growing closer, Liam is upset, and Flo and Wyatt cannot keep their hands off one another while Sally suffers in silence. Quinn is all kinds of happy, but we cannot wait to see her fall apart and things not work for her. It's all going to be a very ugly situation, and we cannot help but wonder if there is something else going on.
What's Happening on the Bold and the Beautiful
Since there's just ONE week until Steffy returns to Los Angeles, we're looking back on some of her greatest #BoldandBeautiful moments! See them all here: https://t.co/ZHARzZ8WEW pic.twitter.com/xJ7PN3WdFu

— Bold & The Beautiful (@BandB_CBS) May 16, 2019
Who is excited to see her return?
What's Next on the Bold and the Beautiful
This Spencer family is reunited! #BoldandBeautiful pic.twitter.com/zh7l7PPkRn

— Bold & The Beautiful (@BandB_CBS) May 16, 2019
Fans, things are about to unfold. Flo and Zoe, as usual, are arguing about what to do about the situation with the baby that Hope had and thinks she lost. Steffy is unknowingly raising that baby as her own after adopting her from Flo, and there is about to be a major break. Flo wants to tell Hope the truth that the baby Steffy has is Hope's and not Flo's, and Zoe doesn't want her to say a word about Beth and what happened. And guess what? Hope is going to hear them discussing her daughter by name, and she has some questions for them. What are they discussing? Why are they talking about her, and what is going on in their situation? We don't know, and that's going to change this week. Hope is going to start to suspect there might be more to this.
And then there is Thomas, who is using Caroline — his son's late mother — as part of his plan to make sure Hope falls for him and chooses him over her own husband. There is not a thing about this we agree with. He is using a child and a dead woman to steal another man's wife, and that is ugly and disgusting, and he will not stop. Even though the entire city is now aware of what he is doing, he will not stop. This is not a thing we agree with, and it is not a thing he will stop doing. There's too much at stake for him, and that's where he is in the moment.
Stay tuned for more The Bold and the Beautiful and be sure to check out TVOvermind daily for the latest The Bold and the Beautiful spoilers, news, and updates.