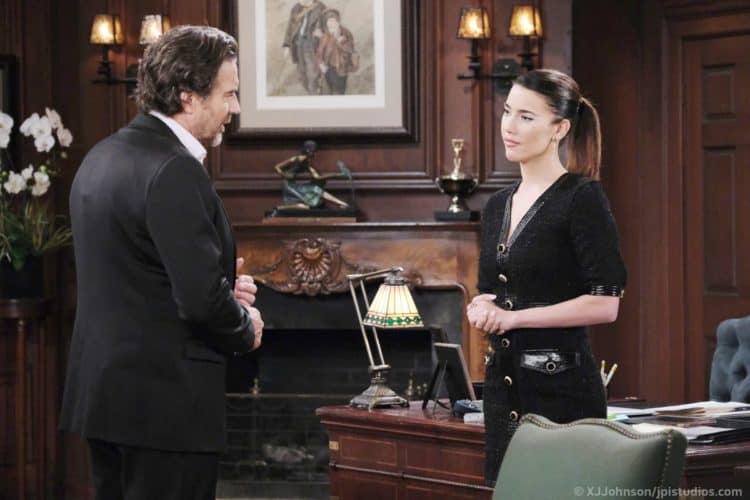 Bold and the Beautiful fans are not sure that Ridge is ever going to be able to keep the peace in his family. His son is a mess who needs a doctor to help him get through some serious mental health issues. His grandson needs a family who will love him and raise him and treat him well so that he doesn't grow up in the same manner. His daughter will not forgive her brother for his part in the worst thing that ever happened to her in her life. She knows he was not involved with the actual lie that the baby Hope and Liam had died or the kidnapping of that baby, or the fact that she bought that baby in a private adoption from Reese and Flo or that she adopted a baby that didn't belong to Flo, but he knew and he didn't say anything to her. It's all a mess, and he's not forgiven in her eyes.
Meanwhile, Thomas is doing all he can to make sure that he can find revenge against his family, but now he has another problem. Hope came to him to tell him that she is going to take his son from him and make him her own, and that she and Liam are going to adopt him and make him part of their family so that he grows up with a mother and a father and a family with sisters and all that. She's not asking him to let her do this, but she's hoping that he will agree with her on some level that she should be the child's mother. He's not into this at all, and now we can expect to see Hope and Liam end up on his list of people to get.
What's Happening on Bold and the Beautiful
https://twitter.com/BandB_CBS/status/1187030626777518080?ref_src=twsrc%5Etfw
We love a great guest star.
What's Next on Bold and the Beautiful
A custody battle puts a husband and wife at war. 💥 It's all happening this week on #BoldandBeautiful. pic.twitter.com/6vVTLUk8uR

— Bold & The Beautiful (@BandB_CBS) October 20, 2019
Ridge is about to lose his mind, and we actually get it for once. He is going to find out on this day that there is a situation with his wife that he did not see coming. Thomas will let him know that Brooke and Hope are trying to trick Thomas into giving up his own son — Ridge's grandson — to Hope and Liam for them to raise as their own grandchild. They are horrible to think that they can just do this to a child and his father and the rest of his family, and there is nothing about this Ridge will be all right with. He does want the best for his grandchild, but having his wife sneak around behind his back to take the child from his own son is a bit too much for him, and we can see that this is not going to be something she can talk him into.
Meanwhile, Wyatt is going to find out that his mother asked his father to get into the situation with Sally. When he asked her to marry him, Quinn did not like it, and she asked Bill to get into the middle of that and make some things happen. Wyatt will not be pleased to learn this by any means, and he will probably take out his anger on both of his parents. They need to stay out of his life and leave him be to live his own life. This is too much, and Quinn knows better. So does Bill.
Stay tuned for more The Bold and the Beautiful and be sure to check out TVOvermind daily for the latest The Bold and the Beautiful spoilers, news, and updates.