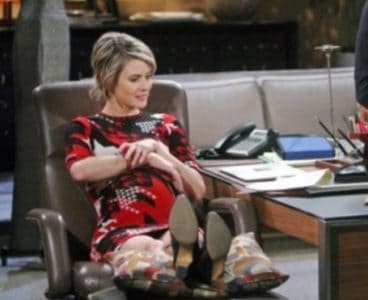 The Bold and the Beautiful spoilers are all about the Spectra's. It turns out that they were able to get several designs that work for them, and they are able to create a new line. This makes Shirley happier than she's been in a while, but it makes Sally feel even more upset about all that's going on in her life. She's not happy that things don't seem to be going her way, and she's going to make sure everyone is familiar with the fact that she's heartbroken. She really did think that things would be different with her and Thomas, but it turns out her grandmother was right. At least she feels this is what happened. We have a feeling that maybe Thomas really did want to make things work with Sally, but it's not going to happen now because Sally doesn't seem to be much of a second-chance at love kind of girl.
Sally is struggling to focus on business now that her heart hurts. She's not excited about the new line, the designs, or anything else. Anyone who works in the creative industry knows it's virtually impossible to work when your creative juices aren't flowing. It's not easy to come up with designs, ideas, and concepts when you know your ideas aren't being worked into the mind the way they need to be. However, Saul and Shirley will take over for her and get things ready. They are ready to take on the demands that are to follow, and they are ready for Bill. He already blackmailed Jarret into making the reviews of their last line awful, even though he didn't think they were all that terrible.
Shirley is convinced this next line is the beginning or the end for them. She's convinced that they have no choice but to blow it out of the water this time around or they will suffer too much to go on. Of course, the new designs they have are actually from the Forrester collection, so they should go over very well with everyone. Is Sally going to get on board with this blatant theft?