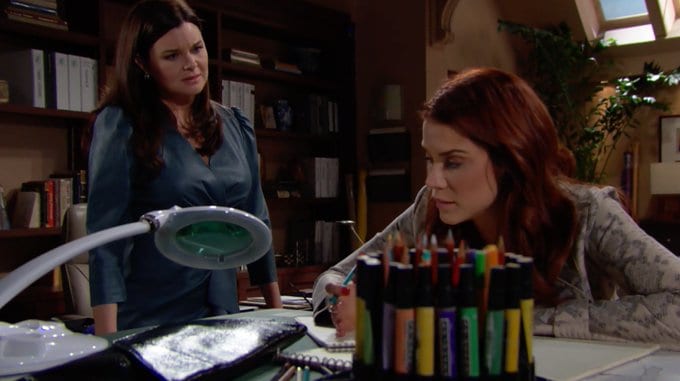 Bold and the Beautiful fans know that Sally doesn't want help. She doesn't want to see another doctor. She doesn't want treatment. She doesn't want anything that might change her life or make things harder on her than they already need to be. She doesn't want anything that might change the way things are going for her. She does not want a thing like that. But, she does want things that will change her life for the better, and that is to be left alone. She's upset with Katie for sharing her secret with so many people. She doesn't want Wyatt to feel sorry for her or to know that she's dying, and he's not thinking of anything else. He and Flo are working together to find a way to help Sally, and she's going to be more than a little upset when she finds out about that. She's going to lose it that she's their charity case in the moment.
Then there is Katie, who is doing what she can to save the job that Sally could lose. She's letting her family and her friends know that this is a young woman who is terminally ill, but that does not mean she cannot come to work in the meantime and do the job. She needs the job to help her get through this horrible time in her life when everything else is just a mess and she has no other options. She's got a lot on her mind right now, and she's not in a good place. There are so many people looking to help her, but she's not in the current right frame of mind to allow them to help her. She just wants to be left alone, and no one is going to allow that for her.
What's Happening on Bold and the Beautiful
Don't miss a #Wally Facebook Live! 💙 @THEEdarinbrooks and @TheCourtneyHope will be LIVE on the #BoldandBeautiful Facebook page tomorrow at 2:00 PM ET/ 11:00 AM PT. Have a question for them? Tweet it to us! pic.twitter.com/BPWOyA2uEp

— Bold & The Beautiful (@BandB_CBS) February 24, 2020
We love them together so much.
What's Next on Bold and the Beautiful
Wyatt and Sally move forward this week on #BoldandBeautiful. 💙 Don't miss it! pic.twitter.com/mFLtzYhFpn

— Bold & The Beautiful (@BandB_CBS) February 23, 2020
Sally is going to learn that Ridge is making some big decisions at his family business. He is going to use her work to design the couture line he's been eyeing for some time, and she's the one to thank for that. She probably has no idea that Katie talked to him and that this is her doing and that he knows about all of this, but she knows that he is going to allow her to keep working with the company and help him design this line, and that is the small bit of happiness she has in her life right now after losing the man she loves to the woman who hurt their families so badly and then finding out about her terminal diagnosis. This is a hard situation for her, and she's not sure how to get through this, but this news does help.
We also understand that Wyatt and Flo are going to go through a very emotional moment and a very romantic one at that today. They are going to do this because they are about to make a huge sacrifice for Sally, and we think this means that they are going to put off their wedding and change things up. We don't know that she knows that Katie told him, but we suspect that she will find out before much longer considering everyone is about to change their ways with her and be so nice to her after they were all so awful to her in the past. It is not ideal, and she knows this in her own mind.
Stay tuned for more The Bold and the Beautiful and be sure to check out TVOvermind daily for the latest The Bold and the Beautiful spoilers, news, and updates.
Tell us what's wrong with this post? How could we improve it? :)
Let us improve this post!