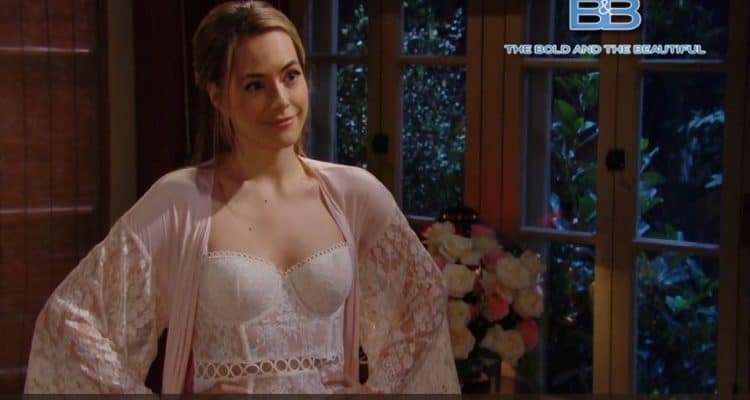 The Bold and the Beautiful fans watched things unfold rather interestingly at the wedding reception. Taylor and Brooke really cannot seem to keep themselves in check. They cannot contain themselves and their intense dislike for one another and it's not cute. They are grown women, and yelling and screaming at one another at the wedding of Hope and Liam was not attractive. They both need to get over themselves and stay out of their daughter's lives and let them live them to their own design. They both made their decisions, and their mothers had no real business getting in the middle of things as they were. They don't have much of a leg to stand on here, but they do need to get their lives in order and make sure they can grow up and move on in their own lives. They should focus on themselves, but they did not. They focused on their hatred for one another, and it was ugly.
But the good news is that Hope is fine. She's handled it, she made a very emotional speech, and she is currently living her best life. She is finally married to Liam, she is having his baby, and her life is everything she ever thought it would be now that she's happy again. She's not concerned that her wedding was derailed, he picked another woman the first time, he was engaged to be married to her a few weeks ago, and things didn't work out for her until Steffy made the decision not to be with Liam, but that's her business and her personal situation and we don't care. We saw them get married, she's happy, she's emotional, and her life is all she wants it to be. We've never seen her happier than she was yesterday.
What's Happening on the Bold and the Beautiful
The walk of shame. #BoldandBeautiful pic.twitter.com/KWkjbC2ZyN

— Bold & The Beautiful (@BandB_CBS) August 22, 2018
It might be a walk of shame for Brooke and Taylor, but we loved every second of watching these two walk this shameful walk. They did something awful and petty and stupid, and watching them pay the price of suffering for their actions was kind of our favorite thing to do. We appreciated it, and we liked seeing it happen. It made us happier than most. Did you enjoy this fantastic moment watching them fall apart?
What's Next on the Bold and the Beautiful
Accusations AND wedding cake being thrown between Brooke and Taylor. #BoldandBeautiful pic.twitter.com/yPJSenPYpI

— Bold & The Beautiful (@BandB_CBS) August 22, 2018
The next thing that will happen is going to be nothing short of predictable. We will see that Bill is going to struggle. He's made it very clear to Katie that he wants to be the kind of father to Will that he was not to Liam and Wyatt. He wants to be a good father to him so that they don't end up with the same relationship that he has with his grown sons right now. However, he's now in a situation where he has to prove himself, and it could go either way. He has an important meeting to take, but it's at the same time he's scheduled to pick up his son. Will he choose to go to the meeting, or will he choose to be there for his son? We don't know.
But we do know that whatever he chooses, Thorne is off making big decisions for this little boy and his mother. He will tell Katie that he will be the kind of father figure that her son so desperately needs, and that will not go over well with Bill at all. They've only been dating a minute, and this is a big thing for him to say to her since they don't even know if they are serious or not, but we suppose being a good role model for a child is something anyone can do. Perhaps he could do it without making a big deal of announcing it, though. We only know that Bill will probably make the wrong decision, and it will go over poorly.
Stay tuned for more The Bold and the Beautiful and be sure to check out TVOvermind daily for the latest The Bold and the Beautiful spoilers, news, and updates.
Tell us what's wrong with this post? How could we improve it? :)
Let us improve this post!