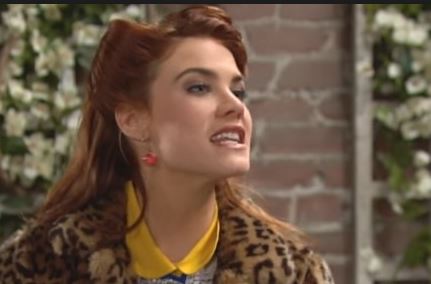 The Bold and the Beautiful fans are working very hard right now to understand where Sally is coming from. She's still harboring a lot of resentment for Bill and all he has to do in her life. And she's not wrong about that. He did awful things to her and to her family, and he even almost took her life. She's also mad about all he's done to Liam given the fact she cares so much for him. She won't give up on him even though he's most assuredly given up on her. But now she's going to do what she does best, and she's going to plot.
Sally wants to take Bill down, and it's probably good she has a plan. She's gotten boring. She showed up a few months ago with a big personality and a big deal for business, and then she fell for a couple of men with baby mama's they can't get enough of, and then she turned into a blubbering mess of boring and defeated. Now she's back, and hopefully she's got her spine back at this point.
The only thing we don't like about this is she's basically kicking a man who is already down. He's got nothing else to live for in his own mind, and that means she's going to focus on getting him while he's weak and unprepared. That almost makes us wonder if what's going on is even worthwhile for her to still be around here, but we don't know.