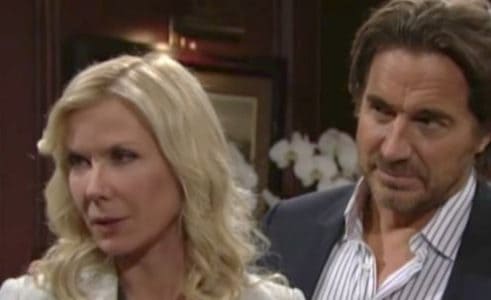 The Bold and the Beautiful fans aren't sure that Ridge and Brooke will make it much longer. They just got married, but they are already having problems that will only grow worse as they continue to fight. He is not happy with her right now because she doesn't want him to go after Bill for revenge. She's not happy that he is going out of his way to make this man miserable. He thinks that he is trying to protect her old husband, but all she wants to do is stop her current husband from turning into her ex.
She wants him to let go of this anger and this petty behavior and move on. She's tired of the things that Bill did while they were married, and she's not all that interested in being married to a man who is doing the same things she hated so much about her ex. This is not good news for anyone who is in this situation.
But right now all he thinks is that she is protecting Bill. She is not on his good side right now, and what his own daughter is going through with her daughter and Liam is not going to help this situation at all. This is all going to turn around on them and become an even bigger mess if they let it, and we can't wait to see how it all unfolds going into next week. This should be good television for everyone to watch.
Tell us what's wrong with this post? How could we improve it? :)
Let us improve this post!