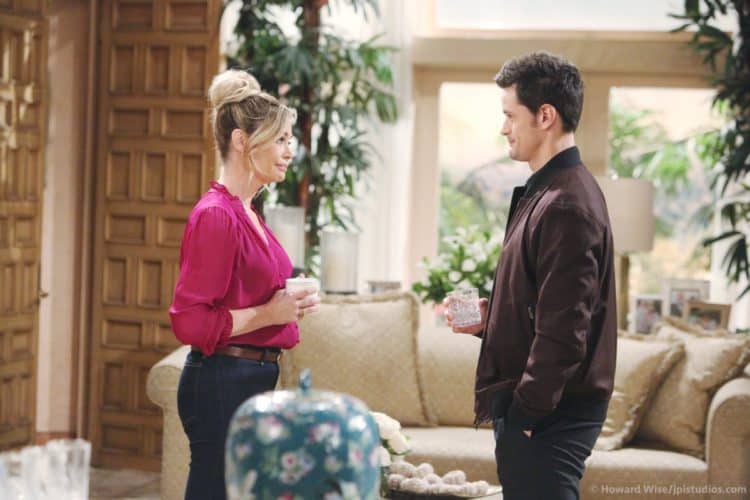 Bold and the Beautiful fans have decided that this show has a running theme; and that theme is same story, different day, because we are just about tired of seeing the same story every single day for months at a time. We need things to move a bit faster around here. Or maybe we just need things to change for good. We are tired of seeing Brooke and Ridge play this game. They have already decided more than once that they cannot give their marriage a go because they both want the other to make some big changes that they are both unwilling to make, and that means that they are not on the same page. But when they think that the problem they are dealing with has eliminated itself and they don't need to make any more changes, they are good to go.
On the other side of things, Hope needs to get it together. Thomas needs to give up. Zoe needs to get a clue and realize that the man she's falling for is a hot mess who isn't into her, and Liam and Steffy need to realize that they cannot stop everything bad from happening to Hope when she continuously puts herself into the middle of these situations that make a mess of life. She keeps doing that to herself, and that means that some things are a mess that cannot be changed. There's so much going on here that we cannot fix. There's so many things that she creates in her life that cannot be changed, and they have to realize that she has to fix herself. Sally and Wyatt need to get things together, and things will never change if they don't. We want so much more than the same story every day.
What's Happening on Bold and the Beautiful
When you call your friend to talk about the latest episode of #BoldandBeautiful and they don't pick up…. pic.twitter.com/NYSvKfXp9w

— Bold & The Beautiful (@BandB_CBS) January 2, 2020
Um, call? What's that?
What's Next on the Bold and the Beautiful
https://twitter.com/BandB_CBS/status/1211300844227837952?ref_src=twsrc%5Etfw
There's a new man in town this week, and he's going to be a Forrester. His name is Collin, and he's going to do what he can to win over Steffy. It seems that he is taking an instant liking to her, and why not? She's beautiful, she's powerful, she's confident, and she's great. He seems to like her enough to be willing to ask her out on the first time that he shows up on the show, and there is a big thing to be said for that. We don't know if she will say yes to him, but we think that something going for her might be a bit intriguing now that her life is calming down a bit and things are changing for her so much. Thomas, on the other hand, is not happy with Liam. He's mad. He's mad that Liam does always seem to be so up into his business, and we feel that. We do get that. He's a man who does that. He gets into things he should not. He makes situations he should.
And he's not happy. He's so mad, in fact, that he is making a serious threat, and we don't see that Liam will be happy about it. We think he will take that to Steffy, who will also not be happy about it, either. What kind of fight and war will this start for all of them? What will they do that is going to make things seem like they are not the way that they should be or the way that they were meant to be? We don't know, precisely, but we can see that things won't change.
Stay tuned for more The Bold and the Beautiful and be sure to check out TVOvermind daily for the latest The Bold and the Beautiful spoilers, news, and updates.
Tell us what's wrong with this post? How could we improve it? :)
Let us improve this post!