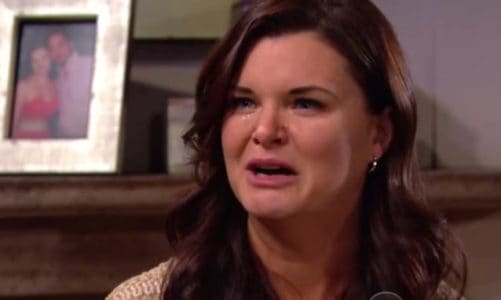 The Bold and the Beautiful fans say Katie is at a cross in her life. She's stuck. She wants to keep getting what she wants, but she's beginning to feel the guilt of this lie getting to her. Sure, Ridge and Quinn are basically handing her every single thing she's ever wanted in life on a silver platter, but she's not entirely happy. We all know she has serious feelings for Eric, and she's getting to the point where she's realizing what she's doing is no better than what they are doing.
She's also lying to him. She's using the lies and secrets she's aware of to get what she wants while Quinn and Ridge get away with hurting the man Katie seems to be in love with. She can't keep lying to him, because she feels for him. But she's also not sure she can hurt him by telling him what his son and wife are doing. After all, he's so happy with the new relationship he has with Ridge, and he feels he's finally found a wife who is good to him.
Can she keep this secret, or can she justify telling him? She's going to need to remember if she tells him what she knows, she also has to tell him she's known for a while and used this information for some personal gain of her own. This will not go well for anyone involved, and that means big things are happening in the life of these two. Will she spill what she knows?