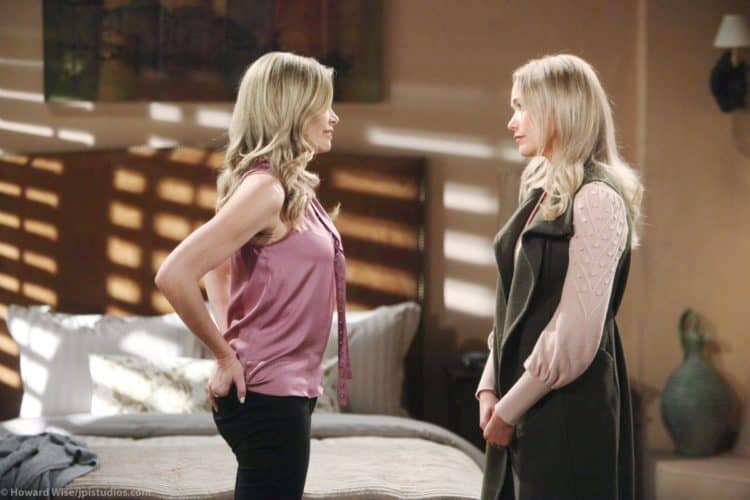 Bold and the Beautiful fans know that there's nothing as scary as what is going on in the world right now. We are all locked in our homes, we feel like prisoners filled with guilt each time we have to venture out for our groceries or to pick up medication from the pharmacy. We feel dirty and terrified each time we cough or feel the need to sneeze or our eyes water (seasonal allergies, anyone?). We don't see any end in sight. It's a situation, and we know that what's going on with our favorite soaps is not that important in the grand scheme of things. Or, is it? We feel that anything that gives us something to look forward to, something that is good, something that takes our minds off what is going on in the world around us, something that is anything good in our lives, is important.
Which brings us to this. We know that our favorite fashion designing family only has six weeks or so worth of new episodes to air while this pandemic continues, and we are already almost a month into it. That makes us worry and fear for what is going to happen when May rolls around and we are told we cannot resume our everyday lives at this point. We don't have any official word on that one, yet, but as a Floridian who knows that our 'peak' isn't going to hit until May 3, it's safe to assume no one is going to go back to their real life on May 1. So, that means the actors and the crew might not be able to go back to work to film new episodes, so this is a problem for many of us.
But, we do have some good news. It's nothing official as of writing this article, but CBS seems to be following in the ABC footsteps and making Friday a flashback day. They did this with both Bold and the Beautiful and Young and the Restless already, which means it's only a matter of time before they announce it as an official situation. This allows them air one old episode a week, keep four new ones airing Monday through Thursday, and it allows them to prolong the timeframe in which we get to see new episodes. That's good news.
The first time Bold and the Beautiful did this, they aired a great flashback. It was the 30th anniversary show in Australia when Brooke and Ridge were very set to get remarried but she caught him kissing Quinn — that was already almost three years ago?! — and Steffy and Liam were married in front of the opera house in grand fashion. Honestly, what bride rolls into her wedding ceremony on a zip line in her gown and ready to go? It was fabulous, and we all loved it. They aired that one, and fans love it. We love it because it allows us to look forward to seeing something we loved in the past, but it also allows us to know that we have some hope for newer episodes in the future.
If nothing else, it does allow us to see that we can hold out a little bit longer on the end of the new episodes being shown, which puts us that much closer to this being over and our real lives being resumed — hopefully. We don't know for certain, but we do know that we can see the light at the end of the tunnel in some capacity. With the way things are going right now, we will bring you some updated information every weekend if need be. We will try to look for some good news situations to bring to you. We will try to find things to brighten your day that fall in line with your favorite soaps, and that make you feel good. We are doing what we can to keep you entertained while also making you feel good, taking time from your worry, and distracting you as often as possible. Let us do that for you, and maybe we will all get through this just a little lighter for it.