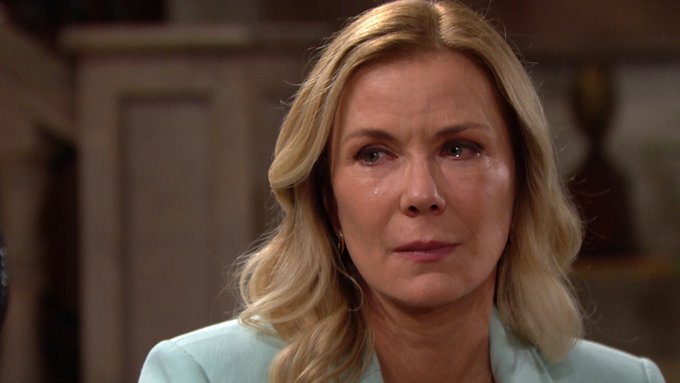 Bold and the Beautiful fans, what can we say? Last week what a you-know-what show, and most of that had to do with Brooke. She's a hot mess, and she's never going to change. Honestly, it's what we love so much about her character, but she's got to do the right thing. Donna, her sister, is working so hard to get Katie to forgive her and move on from this, but Katie is done with this. She's done with her sister stealing her husband from her — the same husband over and over again, too — and she is also done with more than that. She's done with her husband leaving her for her sister, too, and it's not working well for her at all. This is a situation she's not letting go. She's not making up with Brooke, she's not talking to Bill right now, and she's taking the space and time she needs.
Meanwhile, Brooke is also going to reach out to Ridge if she can find him — but she cannot find him. We bet Quinn would be more than willing — and very happy — to tell Brooke that her own husband is off in Vegas with Shauna trying to spend some time with her in a very romantic setting. And they are having the best time you could even imagine. Then there is Quinn. Eric is not a happy husband. His wife did some ugly things to his son and daughter-in-law. He realizes that his daughter-and-law and Bill did this to themselves when they chose to kiss, but he also fails to appreciate that his wife decided to use the video at a party with the entire family present. That was not something she had the right to do, and she's working hard for his forgiveness. Will he give it?
What's Happening on the Bold and the Beautiful
Bonjour from #BoldandBeautiful! Take a virtual trip to Paris with B&B tomorrow as we go back in time to a classic episode shot on location in France. 🇫🇷 And then on Monday we'll pick up right where we left off today with an all-new episode! pic.twitter.com/8IVWhyaBvp

— Bold & The Beautiful (@BandB_CBS) April 9, 2020
We love the classics.
What's Next on the Bold and the Beautiful
Life-changing lies lead to emotional blackmail this week on #BoldandBeautiful. Make sure you tune in to see what happens next! pic.twitter.com/WvmLeP0qaO

— Bold & The Beautiful (@BandB_CBS) April 5, 2020
Well, well, well. It seems that Shauna has fallen long and hard for Ridge. We knew she had feelings for him she was looking to explore, and we knew that it was a lot more than just a crush. But, we also knew that there was a lot more going on in his life than she might be willing to deal with. Now, we are all sitting her watching her fall so far in love with this man who is married to another woman and only left to be with her when he found out his wife kissed another man. We'd like to say we think that he will fall for her and they will be a happily ever after couple, but the truth is that Ridge just fought so hard for his marriage and to be with his wife again, and he might not know exactly what he wants when his anger and his fury calm down a bit. We don't know, but we do know that Shauna is giving a bit of a VIP situation to Ridge in Vegas right now, and he is definitely enjoying that.
Meanwhile, we also know that Sally is not happy. She just found out that the good doctor has been influenced by Flo, and that it might mean her secret is going to come out. She cannot have that now that she's in this to win this. She's not allowing Flo to take Wyatt from her again. She's going to go so far out of her way to make sure that she can handle whatever comes her way.
Stay tuned for more The Bold and the Beautiful and be sure to check out TVOvermind daily for the latest The Bold and the Beautiful spoilers, news, and updates.