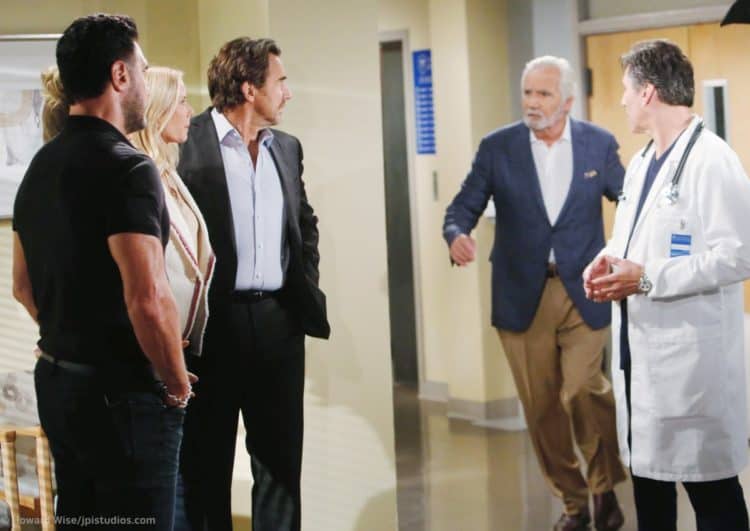 The Bold and the Beautiful fans know that there was an encounter at the Bikini Bar, and we know it was between Sally and Flo. They have a chance to fix things between themselves, and that is not going to happen. Sally is not a woman who is going to stand for Flo standing there telling her that she feels it is herself that should be with Wyatt and that she should get a second chance with this family. She is not going to sit there and hear her say that she deserves the forgiveness she feels she is entitled to. She took a baby. She lied to her parents and told them that their baby died. She kidnapped that baby, and then she sold the baby for profit. She let so many people learn of this secret to the point that one person used the secret to manipulate a woman into divorcing her husband and marrying him, he then used his own son to make horrible mistakes for that, and then there was the time another woman lost her life because of all of this.
Wyatt, on the other hand, is a man who is done with his mother. She is being horrible to him, but she's giving him the kind of tough love only a mother can issue. Will he change his mind about being with Sally as a result of what is going on with her? Will Quinn manage to convince him to give this horrible woman a second chance? And we also know that Katie's doctor has some bad news for her family, too. He cannot figure out what is going on with her, and the news is grim. Will they lose her? Will Bill lose the happiness he finally found with his former wife?
What's Happening on Bold and the Beautiful
We 💙 these two. Send Bill and Katie some love during this difficult time. 💔 #BoldandBeautiful pic.twitter.com/9UFMmFSlz6

— Bold & The Beautiful (@BandB_CBS) September 24, 2019
They are so sweet.
What's Next on Bold and the Beautiful
It's the moment no family should ever have to face this week on #BoldandBeautiful. 😢 pic.twitter.com/vQSjda39bE

— Bold & The Beautiful (@BandB_CBS) September 22, 2019
Ridge has gone above and beyond to help his son get the help that he needs, but he knows that the help Thomas needs is not something he can give him. He knows his son needs to have the kind of help that requires a team of doctors and close supervision all the time, so he will not be a happy father when he catches his son having some time with his own son. Thomas is not supposed to spend time with Douglas unless that time is heavily supervised and monitored. He is a danger to himself and to his son, so they cannot be alone together. When Ridge finds this happening, he will panic. He has to keep his son safe, and he has to keep his little grandson safe, and he will start to see that this might be more than he can handle.
Then there is Shauna. It seems that Ridge is the only person who will be kind to her in the moment, and she is going to be there for him as he continues to go through horrible times. He might have made a deal with Brooke to support their marriage and work on things, but she still doesn't like that he is there for his son and she's still not holding up her own end of the deal. She's also a little bit distracted by her own daughter and her own sister and their issues, but Shauna will certainly use that to her own advantage, and we can see her turning this into a situation no one can handle.
Stay tuned for more The Bold and the Beautiful and be sure to check out TVOvermind daily for the latest The Bold and the Beautiful spoilers, news, and updates.
Tell us what's wrong with this post? How could we improve it? :)
Let us improve this post!