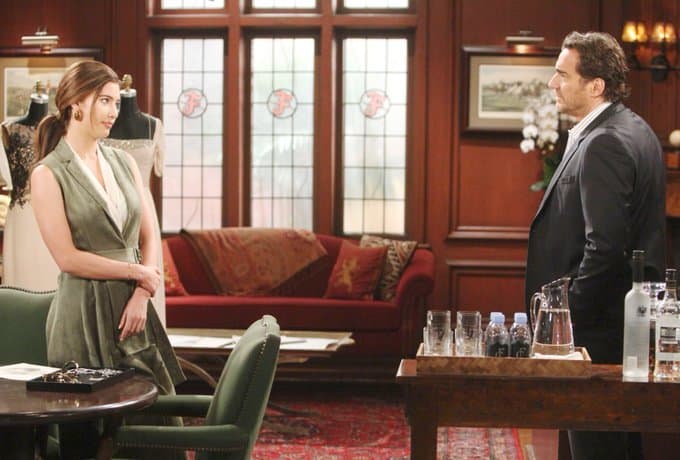 Bold and the Beautiful fans are just sitting here wondering what Wyatt is thinking. Last week was a weird one with the lack of shows and the interruptions on CBS and the impeachment hearing effects on everyone's favorite shows, but we are all sitting here wondering how things will improve from this point on. There is a lot happening, but it's a big situation for many. Wyatt is not sure what to do. He's in love with two women, and he's leaning more to Flo than to Sally. But he's also asking everyone and their mother for advice. He's asked his own ex, Katie, and he's asking his brother. And they all have advice for him. But, there is so much more to this. If he's needing to ask all these people what he should do, he should consider just being alone for a while. He needn't be with anyone right now if he literally cannot make up his own mind.
Katie told him Sally is a survivor, and then Sally opened up to Katie about what is going on in her life. Does this make her feel as if she should have gone the other way with her opinions? We aren't sure. But, we do know that things are rarely ever what they seem around here. Then, there is what is going on with Quinn and Brooke, and their own little world they live in. They are both so out of touch with reality that they don't even know what to do with themselves, and it's fabulous just how bad they are at getting the picture. They both need to make some major changes in their lives, but we don't see that happening at all. We only see things happening as they want them to.
What's Happening on Bold and the Beautiful
We thought these #BoldandBeautiful throwbacks were perfect for this week! Whose side do you think Eric should choose? pic.twitter.com/mogtReeYeW

— Bold & The Beautiful (@BandB_CBS) January 30, 2020
We love these throwbacks!
What's Next on Bold and the Beautiful
Sally confides in Katie this week on #BoldandBeautiful. Don't miss it. pic.twitter.com/3Qc1iqFK3H

— Bold & The Beautiful (@BandB_CBS) January 26, 2020
It looks like this week is going to turn into a little something more sinister than most people imagined. There will be some big fights going on between Brooke and Quinn over all there is to do with Shauna and Flo, and it doesn't appear that these two will do anything like hold back or try to be anything such a reasonable with anyone else. They are going to do nothing short of alienate this family that they are fighting so hard to make their own — and the Forresters might just end up getting rid of both of them as a result. It is a bad situation through and through, yet neither of them seems to be able to see that this is what they are doing to themselves and to their family. But, they are only focused on their hatred of one another.
Meanwhile, we know that this is going to be the time that Thomas decides he's going to approach Quinn and work with her to help get rid of Brooke. They both have such a mutual interest in their hatred of one another, so this might work out well for them if they can find that these things are going in their favor. We aren't sure that she will immediately agree to it given the less than stellar history that Thomas has with trying to take her down and get his family out of their lives, but she might entertain the idea of having an ally as she works so hard to make this woman obsolete in her life from now on.
Stay tuned for more The Bold and the Beautiful and be sure to check out TVOvermind daily for the latest The Bold and the Beautiful spoilers, news, and updates.