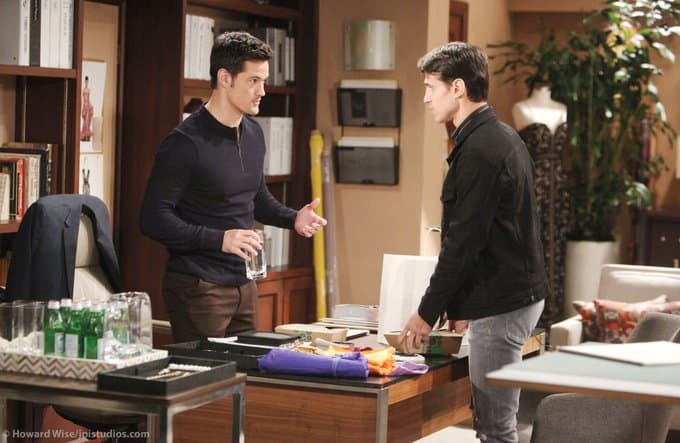 Bold and the Beautiful fans appreciated that Vinny is doing what he needs to do for his friend, even if his friend is not a fan. There is nothing cute about what Thomas is doing on any level, but Vinny is especially horrified that his friend is continuing to use his child to get what he wants in life. It did not go well for him the first time, it will not go well for him this time, and there is nothing good about a parent who refuses to do the right thing for his or her own child. There's a lot going on here, and it's something that doesn't work out for anyone. We are not happy with the way things are going right now, and we are not going to see this situation improve in any capacity. It's a thing, and we know it. For now, though, we watch Vinny make better choices.
Thomas, however, does not care. He's doing what he needs to do to get Hope to marry him, which means speeding up the wedding planning process with his fake fiancé. We just have to ask what he might do when he has to marry Zoe because Hope is not changing her mind about doing what she needs to do to get Douglas as her own again. She might not want to stop this wedding. If this is the case, what do we do about everything else? What will he do about being married to Zoe? Will he do it, or will he end the wedding before it starts? We have to wonder if he will actually marry her and allow her to become a fake wife knowing it will never last and her first marriage is doomed to end in divorce? It might be a thing.
What's Happening on Bold and the Beautiful
Sally agrees to Wyatt's astonishing proposal. WATCH FULL EPISODE: https://t.co/3QMkA8Gecl #BoldandBeautiful pic.twitter.com/DWQ3QMwaM6

— Bold & The Beautiful (@BandB_CBS) March 2, 2020
We love this, but we know this is not going to end well.
What's Next on Bold and the Beautiful
https://twitter.com/BandB_CBS/status/1234131279081287681?ref_src=twsrc%5Etfw
Steffy has been feeling very good about her brother for a while now. She seemed to believe that he really was a changed man, and that he was making it a point to make good decisions and do the right thing, but it turns out she was wrong. She was so wrong about all of it, and it didn't make much sense to her that he did the things that he did. She's not a woman who does things that make sense all the time, but she has never used her own child to manipulate someone into being with her, so there is that. She's going to overhear a conversation that Thomas is having, and she will be shocked and horrified when she realizes what he has to say. There is nothing that will change this for her to make it better.
Hope is not going to be very happy with Thomas today. They have another argument, which is never good. They will not get along about something, and she is going to go to Liam and ask him what he thinks she should do. He has a very clear opinion about things with her and with Thomas, but we still don't think that she will listen to him or even hear him as she tries to make sense of what is going on. And we hope that Thomas doesn't find out she went to Liam or he will make sure he turns things up even more so that she is even more pressured — and that's bad for everyone.
Stay tuned for more The Bold and the Beautiful and be sure to check out TVOvermind daily for the latest The Bold and the Beautiful spoilers, news, and updates.