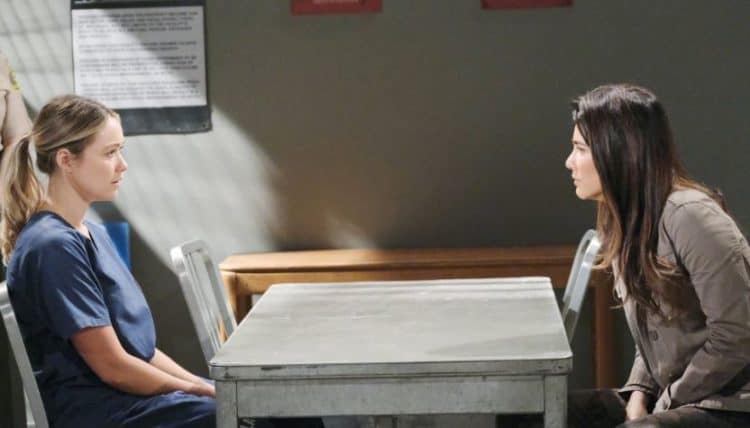 The Bold and the Beautiful fans know the decision Ridge is facing is one that will change lives forever, and he's not sure what to do with that. He has to do what he can to protect his son, but can he? Can he do what he feels he needs to do knowing that his son might not get the help he needs, or does he choose to get the boy the help he needs? His mental health is clearly in question, and we don't know if that means they can work through this or not. There is so much here in question right now, and we cannot be sure we can focus on anything other than how to get through to people who are having some bad days. They are having some ugly choices, and they are having some questionable moments. Can this work for anyone? We don't know.
This is not something we think will go lightly in his mind, but his wife is making it clear that she's where she is. She's not going to change her mind or her opinion, and she is not going to get anything handled this week that will make her life easier. She's got a lot going on in her life, and there is nothing that will make her feel good about Thomas ever again. what he did to their family is nothing she will ever forgive, and we know it. She will never get there, and she will never make it happen. There is nothing good in her life, and here is nothing good she can do to make this situation work for her. She's not going to be happy with anything her husband does, either. Nothing. Absolutely nothing will make them happy. It's too much.
What's Happening on The Bold and the Beautiful
This is our #MondayMood. 👸🏻 Who's ready to see Steffy visit Flo tomorrow on #BoldandBeautiful? pic.twitter.com/FNnROPtvLa

— Bold & The Beautiful (@BandB_CBS) September 9, 2019
We support this mood.
What's Next on the Bold and the Beautiful
You're going to want to watch #BoldandBeautiful all week with one showdown after another! 👊 Don't miss it. pic.twitter.com/CPZsUhrLYk

— Bold & The Beautiful (@BandB_CBS) September 8, 2019
Things are going well with Sally and Wyatt now that everyone can see what kind of person Flo really was. They are having some issues, of course, as they get back into things and Wyatt cannot decide how he feels about Flo after all she did, but he will end up getting a sort of slap in the face this weekend as this go on. He will be quickly reminded that no one has more self-worth than his friend Sally. She is someone who knows the value she has to offer in the world. She is someone who knows that she is an amazing person, that she has amazing things to offer, and that she is going to go out of her own way to figure things out when it is all said and done. She's a rock star, and that's all there is to it. There is nothing they will not do for one another, but he needs to remember she's got confidence, and he's not taking that from her.
Then there is Ridge, who has made a deal that will change the way things are going for his son and for Flo. He didn't want to make a deal for Flo, but he had to do it to get what he wanted for his son, and Brooke is about to find out about it. We will guess she is less than thrilled to find out about this and what he is trying to do. There's little we can see other than the fact that she will lose her mind when she finds out what is going on.
Stay tuned for more The Bold and the Beautiful and be sure to check out TVOvermind daily for the latest The Bold and the Beautiful spoilers, news, and updates.
Tell us what's wrong with this post? How could we improve it? :)
Let us improve this post!