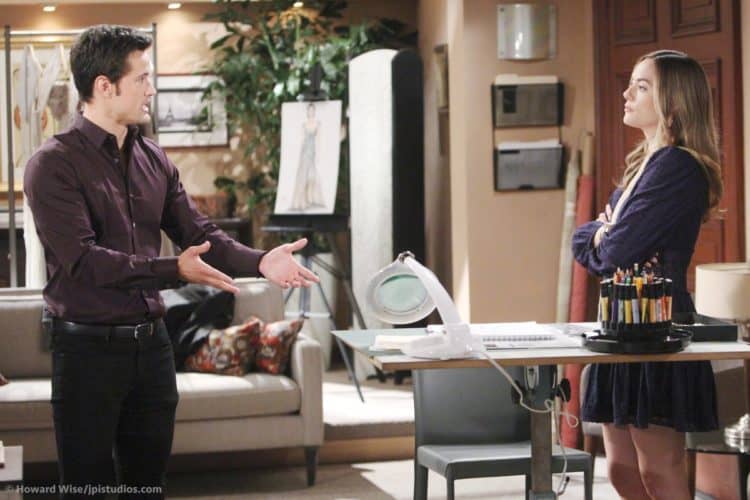 Bold and the Beautiful fans are certain that Sally is in the prime of her life right now. She and Thomas had a history that involved him being downright awful to her, and she's looking to make sure that this is something she can use to take him down. What he did to her was horrible, and she's looking so forward to competing against him in the fashion show. She is certain that she and Steffy will win and that their designs will be the ones the fashion house moves forward with. She's hoping that Thomas' obsession with Hope and being with her will distract their team as they move on. She's also hoping that Hope's confusion about her anger and upset with this entire situation with Thomas and Zoe will stop her from being her best, too. She's looking forward to a win, and we like it.
Meanwhile, we also know that Liam is dealing with Brooke right now, and he's not in the mood. She's not his favorite person as a whole. If ever there was a mother-in-law who was literally all up in your business, she wins the title. She lets her daughter get away with nothing without including her directly, and without making the world see like it needs to revolve around her in every literally manner of speaking. We are so confused by her desire to be this horrible person, but we get that she's just a hot mess and that's how she likes to live her life. But, he's having to deal with her now as her mother is looking to protect her without her knowledge, and that is not going to end well for the plan that Liam and Steffy have in their own minds to work out.
What's Happening on the Bold and the Beautiful
https://twitter.com/BandB_CBS/status/1209805994307526657?ref_src=twsrc%5Etfw
We need more things like this. Just saying.
What's Next on the Bold and the Beautiful
https://twitter.com/BandB_CBS/status/1208764127444963329?ref_src=twsrc%5Etfw
Things are taking a turn for everyone as the year comes to an end. You see, there is a lot happening that we did not see happening otherwise, but we don't know how to change things as they are unfolding. For example, we know that there is a big situation brewing as Zoe and Thomas are on their date. She doesn't like him, and he's just using her to get back to Hope that he is moving on so that she is jealous and wants to spend more time with him. But, she's going to get caught up in all the passion of the date, and we think he is, too. This is when things will change for them, and we think that there will be some actual, real, undeniable feelings blossoming as this occurs. We can see this is going to be a bit of a mess, and we cannot see it changing.
Then there is Liam, who is worrying about Zoe. She's on their team, but he will not be happy when Hope mentions to him that she went on a date with Thomas. He's afraid that she is not all that invested in making sure that Thomas is taken down, and he does worry that there is going to be a problem if she is not focused and spending time doing what he and Steffy want her to do. This might be a problem for him, and he might want to take some action to ensure that Zoe is not missing the focus he feels she needs.
Stay tuned for more The Bold and the Beautiful and be sure to check out TVOvermind daily for the latest The Bold and the Beautiful spoilers, news, and updates.